Technology & Society: AI for Good
Presented by SGInnovate
Given its tremendous economic potential (AI investment should enable Singapore to double the size of its economy in 13 years, instead of 22), countries and companies are betting big on AI innovation globally. In this landscape, it is important for governments and corporations to build governance mechanisms needed to maximise AI's potential and manage its risks.
Increasingly, government, industry, academia and the civil society are working together to develop guidelines for the use of AI. In Davos this year, Singapore announced the world's first national framework for governing AI. In April 2019, the European Commission's High Level Expert Group also released their guidelines on the use and development of AI.
For AI to deliver both economic and social progress, the responsibility for its governance will need to be shared between the public and private sectors. Join us at this event as we discuss how AI can be applied to benefit society at large.
Date: 17 May 2019 (Friday)
Time: 4:00pm – 6:00pm
Venue: 32 Carpenter Street
Programme Details:
4:00pm – 4:30pm: Registration
4:30pm –5:30pm: Panel Discussion on AI for Good
5:30pm – 6:00pm: Networking
Speakers:
Li Hongyi, Deputy Director of Data Science & Artificial Intelligence, GovTech
Dr. Ayesha Khanna, CEO and Co-Founder, ADDO AI
Moderator:
Steve Leonard, Founding CEO, SGInnovate
Speakers' Profiles:
Li Hongyi, Deputy Director of Data Science & Artificial Intelligence, GovTech
Li Hongyi is Deputy Director of the Data Science & Artificial Intelligence Division at GovTech. He studied economics and computer science at Massachusetts Institute of Technology (MIT) before a quick stint working at Google, and thereafter entered the public service. He has been part of the teams working on Parking.sg, Data.gov.sg, and Forms.sg. On his commute to and from work, he takes the opportunity to listen to audiobooks on a whole range of topics from physics to psychology to computer security.
Dr. Ayesha Khanna, CEO and Co-Founder, ADDO AI
Dr. Ayesha Khanna is Co-Founder and CEO of ADDO AI, an artificial intelligence (AI) solutions firm and incubator. She has been a strategic advisor on artificial intelligence, smart cities and fintech to leading corporations and governments. Ayesha also serves on the Board of Infocomm Media Development Authority (IMDA), the Singapore government's agency that develops its world-class technology sector to drive the country's digital economy and power its Smart Nation vision.
In 2017, ADDO AI was featured in Forbes magazine as one of four leading artificial intelligence companies in Asia and Ayesha was named one of South East Asia's groundbreaking female entrepreneurs by Forbes magazine in 2018. Her clients have included SMRT, Singapore's largest public transport company; Singtel, Singapore's largest telco; SOMPO, Japan's largest insurance firm; Habib Bank, Pakistan's largest bank; and Smart Dubai, the government agency tasked to transform Dubai into a leading smart city.
Ayesha is also the Founder of 21C GIRLS, a charity that delivers free coding and artificial intelligence classes to girls in Singapore, and founded the Empower: AI for Singapore national movement, which aims to teach all youth in the country the basics of artificial intelligence.
Prior to founding ADDO AI, Ayesha spent more than a decade on Wall Street developing large scale trading, risk management and data analytics systems. Ayesha was co-founder of the Hybrid Reality Institute, a research and advisory group established to analyze the social and economic impact of accelerating technologies. She directed the Future Cities Group at the London School of Economics, and has been a Faculty Advisor at Singularity University.
Moderator's Profile:
Steve Leonard, Founding CEO, SGInnovate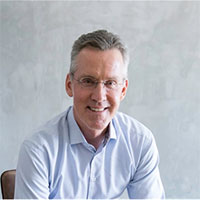 Mr Steve Leonard is a technology-industry leader with a wide range of experience, having played key roles in building several global companies in areas such as Software, Hardware and Services. Although born in the US, Mr Leonard considers himself a member of the larger global community, having lived and worked outside the US for more than 25 years.
In his current role as the Founding Chief Executive Officer of SGInnovate – a private limited company wholly owned by the Singapore Government – Mr Leonard has been chartered to lead an organisation that builds 'deep-tech' companies. Capitalising on the science and technology research for which Singapore has gained a global reputation, Mr Leonard's team works with local and international partners, including universities, venture capitalists, and major corporations to help technical founders imagine, start and scale globally-relevant early stage technology companies from Singapore.
Prior to his role as the CEO of SGInnovate, Mr Leonard served three years as the Executive Deputy Chairman of the Infocomm Development Authority (IDA), a government statutory board under the purview of Singapore's Ministry of Communications and Information. In that role, he had executive responsibility at the national level for various aspects of the information technology and telecommunications industries in Singapore.
Mr Leonard serves on the advisory boards of a range of universities and organisations in Singapore. Mr Leonard also serves as an Independent Non-Executive Director at Singapore Post Ltd (SingPost), a global leader in e-commerce logistics; and AsiaSat, a Hong Kong Stock Exchange-listed commercial operator of communication spacecraft.
Don't miss out on more content on our YouTube channel related to #TechForGood!
Topics: Artificial Intelligence / Deep Learning / Machine Learning / Robotics