Location
BASH, Level 3,
Block 79 Ayer Rajah Crescent via Lift Lobby 3
Singapore 139955
Sundown Drinks: Attracting and Retaining Talent – Is Compensation Enough?
Presented by SGInnovate, Aon and AWS
As a startup founder, how do you balance recruiting top talent and managing effective cash flow?
Attracting high-calibre talent to fuel your early-stage startup is a great start but retaining talent has always been an issue. When money is tight, and credibility has yet to be established, a wrong hire can set you back for months or keep your business from taking off altogether.
During the transition of the different phases in the startup journey, what is enough to engage top talents to give their 101% for your organisation besides an attractive pay package?
Join us for this in-depth discussion with top industry experts to learn about early-stage recruitment, followed by a networking session.
Speaker:
Sinuhé Arroyo, Founder and CEO, Taiger
Dr. Guangda Li, CTO and Co-founder, ViSenze
Kyle Holm, Partner, Global Private Market Practice Leader, AON
Vinod Nair, Founder & CEO, MoneySmart
Juliana Lim, Head - Talent Networking, SGInnovate [Moderator]
Date: 11 September 2019, Wednesday
Time: 3:45pm– 5:45pm
Venue: BASH, Level 3, 79 Ayer Rajah Crescent, Singapore 139955 via Lift Lobby 3
Programme Details:
3:45pm – 4:15pm: Registration
4:15pm – 5:15pm: Panel Discussion and Q&A
5:15pm – 5:45pm: Networking
Speakers' Profiles:
Sinuhé Arroyo, Founder and CEO, Taiger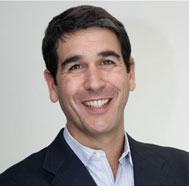 Sinuhé Arroyo is the Founder and Chief Executive Officer of TAIGER, a global Artificial Intelligence company headquartered in Singapore with offices in five other countries across Europe, America and Asia-Pacific.
He is a Committee Member in the Info-Communications Media Development Authority (IMDA) that defines and drives the Technology Roadmap in Singapore, and in the AI Chapter of the Information Technology Standards Committee. He is also an Executive Member of both the AI Chapter launched by the Technology Trade Association SGTech and the Personal Data Protection Commission in Singapore (PDPC). Sinuhé Arroyo is a sought-out speaker and has extensive research experience in the field of Artificial Intelligence, with numerous international publications in research journals and books. He is also a TEDx speaker on AI.
Prior to launching Taiger, Sinuhé worked as corporate development manager at Phion AG, where he carried out the acquisition of Visonys AG and successfully established new international business partnerships. Before that, he was a researcher at DERI, taking part in several world-class research projects that laid the foundations for computational semantic technology. Prior to DERI, he worked at iSOCO S.A., contributing to one of the first commercial semantic technology projects worldwide back in 2000.
He holds a Ph.D. in Artificial Intelligence from the University of Innsbruck (Austria) and an MBA from the University of Chicago Booth School of Business, in which he still participates as an active member of some entrepreneurial initiatives, including being a judging member of the New Venture Challenge.
He self-taught programming at the age of 10 years old and has authored 5 patents.
Dr. Guangda Li, CTO and Co-founder of ViSenze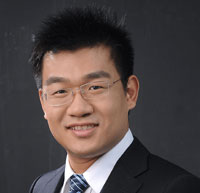 Dr. Guangda Li is the CTO and Co-Founder of ViSenze, where he is responsible for the product, engineering, and R&D roadmap and their daily execution. Guangda has been working closely with the HR team to build and grow the tech talents in ViSenze. Some of the recent recognitions for ViSenze include the Singapore HR Awards 2018 (Growth/Engagement) and 'Best Tech Company to Work For' Award, Singapore Computer Society, 2019. Prior to his role at ViSenze, Guangda obtained his Ph.D. from the National University of Singapore and he was named a finalist of the top innovators under the age of 35 from the Southeast Asia region by MIT Technology Review.
Kyle Holm, Partner, Global Private Market Practice Leader, Aon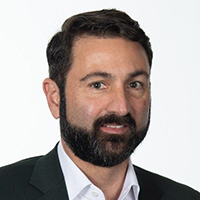 Kyle Holm has nearly 20 years' compensation consulting experience covering executive, broad-based and Board of Director pay. His work covers all elements of compensation including base salary, annual incentives and long-term incentives. He consults on the design of cash and stock-based compensation programs for a varied range of public and private companies with a focus on high-growth organisations in the technology and life sciences sectors.
Additionally, Kyle has significant experience working with family-owned businesses. Prior to joining Radford, Kyle held a principal position at Hay Group and was a founder of Presidio Pay Advisors, where he was instrumental in developing their pre-IPO offerings.
Kyle has been an instructor for the Northern California Human Resources Association's continuing education program. His work has been published in WorkSpan and he co-authored a chapter on initial public offerings in the recently published Understanding Executive Compensation – A Practical Guide for Decision Makers. He earned a Bachelor's degree in Finance from Santa Clara University.
Vinod Nair, Founder & CEO of MoneySmart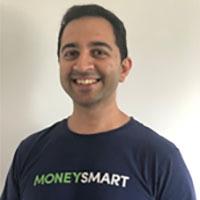 Inspired by his exposure to entrepreneurship during his stint in Silicon Valley, Vinod Nair was determined to come back and start a business in Singapore.
When his first startup, a real estate search engine, failed, he started what would become the MoneySmart Group in 2009. The idea was initially born out of the problem that banks were not transparent about mortgage rates offered and that many consumers were being taken advantage of because they didn't know any better.
As the company grew, he diversified and applied the same concept to other personal finance products like credit cards, personal loans and insurance. Vinod soon realised that people who came to the site to compare products had no reason to come back after they had found what they needed. In order to combat that, the company needed to find a way to engage consumers more frequently. After studying many options, Vinod settled on content as the strategy that the company needed to commit to. There was no local source for money related content. Finance was generally regarded as boring topic, so the approach had to be humorous and had to reflect that we're not a bank.
In recent years, Vinod spends most of his time on strategy and culture, thinking ahead and solving problems ahead of them arising to ensure that the company scales well as the operations and headcount grows.
Moderator's Profile:
Juliana Lim, Head - Talent Networking, SGInnovate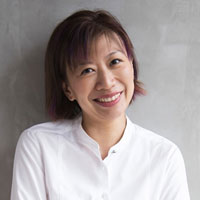 As Head - Talent Networking, Juliana leads SGInnovate's work in strengthening individuals' capabilities in the deep tech space, as well as in expanding the talent network of ambitious and capable people who want to build startups.
Prior to joining SGInnovate, Juliana had been in various roles across the HR function in organisations such as SP Group, NTUC First Campus (NFC), the National Heritage Board (NHB), Central Provident Fund Board (CPFB) and the Ministry of Education (MOE). She has led teams in talent attraction, benefits and rewards, learning and development and business partnering.
During her time at NFC, Juliana led a team to grow NTUC's quality and affordable childcare centres from slightly over 30 to more than 120 in just over two years. During this time, she led her team to change mindsets and develop career paths for early childhood professionals to contribute based on their interests, passion and competencies.
Before NFC, Juliana was in NHB, helping in its mission to make museums "sexy" again and encouraging Singaporeans to become more appreciative of heritage and culture through exciting local and international exhibitions. She was instrumental in the revamp of the National Museum (and its extension), as well as the start of the National Gallery Singapore project (transformation of two national monuments – former Supreme Court and City Hall). Here, she worked with senior management to lead organisation transformation, including undertaking a major review of the compensation framework, organisation restructuring, introduction of business partnering with the museums and development of a scholarship programme.
Juliana's interest in HR was sparked by her posting to MOE's HR department, which convinced her to pursue a full-time Master in Strategic HR Management. When she returned to MOE in the then newly formed HR Policy Unit, Juliana developed and implemented HR policies, drawing valuable experience from her interactions and working with teachers in schools.
Juliana has a Bachelor of Economics (1st Class Hons) from Murdoch University and a Master in Strategic Human Resource Management from the University of New South Wales.
You may also like the following: