SDG Innovate: The Future of Food
Presented by SGInnovate and UNDP Global Centre for Technology, Innovation and Sustainable Development
Singapore and other Asian cities namely Bangalore, Beijing, Hong Kong, Mumbai, Shanghai, Shenzhen and Tokyo have the potential to become global agri-food innovation powerhouses "by creating space for innovation, encouraging public-private sector interaction and drawing in entrepreneurs, such hubs will play an outsized role in driving investment and innovation in the region," according to the "Asia Food Challenge Report" by PwC, Rabobank and Temasek Holdings.
Technologies are transforming traditional agricultural practices and food systems, setting new rules and challenging existing policies, disrupting conventional paradigms, but also creating new opportunities for millions of farmers and producers around the world. They are transcending traditional understanding of an entire food value chain, but also raises concerns about sustainability of production, and ability of such system to meet growing demand for food.
The United Nations forecasts global population growth to reach 9.7 billion by 2050, which will be accompanied by fostering urbanisation and changing consumer preferences. Caloric demand will be increasing, as well as consumption of proteins, boosting agricultural production and leading to further exploitation of natural resources. Can technology and innovation address the issue of productivity, through lowering environmental costs?
Join us at our fourth SDG Innovate speaker series event on the Future of Food as industry leaders discuss the importance of leveraging technology and innovation to improve food production and ensure a healthy, sustainable future for our planet.
Date: 16 January 2020, Thursday
Time: 4:00pm – 6:00pm
Venue: 32 Carpenter Street, Singapore 059911
Speakers:
John Friedman, Director, AgFunder Asia
Liza Noonan, ASEAN Director, CSIRO
Siddharth (Sid) Satpute, Global Programme Director Digital, Olam International
Moderator's: Armen Harutyunyan, Senior Advisor, Sustainable Agriculture, UNDP Global Centre for Technology, Innovation and Sustainable Development
Programme Details:
4:00pm – 4:30pm: Registration
4:30pm – 5:30pm: Panel Discussion on the Future of Food
5:30pm – 6:00pm: Networking
Speakers' Profiles:
John Friedman, Director, AgFunder Asia
John is a director of AgFunder Asia, involved in the business development and a member of the fund's investment team. Prior to joining AgFunder, John was an investment banker with 12 years' experience in public markets at Morgan Stanley and Deutsche Bank. John is also the founding director of Makana Ventures, a Singapore-based collective with activities & investments aimed at driving a more sustainable agrifood system across Southeast Asia. Originally from Hawaii, John studied in the UK, is a graduate of Cornell University and now lives in Singapore with his wife and children.
Liza Noonan, ASEAN Director, CSIRO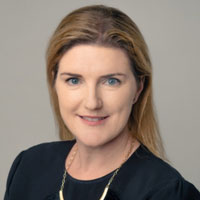 Liza Noonan is the ASEAN Director for CSIRO; Australia's national science agency. In this role Liza is responsible for supporting a portfolio of collaborative research and commercial activity spanning data science, advanced manufacturing, agriculture & food, health and environmental sustainability.
Prior to this role Liza was the Executive Manager of Innovation at the CSIRO and founder of the ON Accelerator- Australia's first national science & technology accelerator supporting public funded research achieve real world impact faster.
Liza has extensive experience in innovation and technology –having been CEO OF Springboard Enterprises Australia - a venture backer of female founded business and head of Solutions & Marketing for Nokia in Australia.
Liza has sat on the Executive Council for the IoT Alliance Australia, has served as a non-executive director for the Canberra Innovation Network and is currently an Australian national Innovation Awards judge.
Liza holds a Bachelor of Economics from the University of New South Wales and is a Graduate of the Australian Institute of Company Directors.
Siddharth (Sid) Satpute, Global Programme Director Digital, Olam International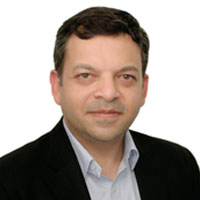 Siddharth (Sid) Satpute is the Global Programme Director Digital in Olam International, and he is currently based in Singapore. Sid has been with Olam since 2013, first as India Country CFO, then as Regional CFO for Asia and moved to Digital in mid-2017.
Prior to joining Olam, Siddharth spent more than 15 years with Royal Philips in various finance leadership roles in India, Singapore and the Netherlands. Siddharth is a Chartered Accountant from India and holds a Bachelor of Commerce degree from the University of Pune, India. In 2016, he was recognised as being amongst the '100 Most Influential CFOs of India' by CIMA U.K.
Moderator's Profile:
Armen Harutyunyan, Senior Advisor, Sustainable Agriculture, UNDP Global Centre for Technology, Innovation and Sustainable Development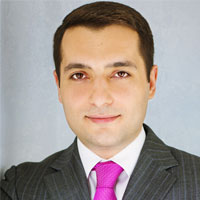 Beforehand, Armen served for five years as the Deputy Minister of Agriculture of Armenia. His primary areas of coordination included international trade and investments, and negotiations on Deep and Comprehensive Free Trade Agreement with the EU and later on the integration of Armenia into the Eurasian Economic Union.
Armen holds MSc in International Development from the University of Bristol and completed joint ANAU and Texas A&M University program on Agribusiness Management. He has attended several professional development programs at Harvard, Stanford, London School of Public Relations, the University of California at Davis and others. Armen received medals for contribution to the formation of the Eurasian Economic Union, for excellent cooperation with Food and Agricultural Organization, as well as for investments into the development of agriculture in Armenia.
Topics: Artificial Intelligence / Deep Learning / Machine Learning / Robotics, Others