Must-Win Battles in the Race for AI
Presented by SGInnovate
Partnered with Telenor
The global AI landscape is increasingly crowded and competitive, as cities and countries turn to artificial intelligence to power education, health and economic growth. Much is at stake for governments, industry and citizenry as the rise of the machine percolates society. And with two major players (USA and China) dominating the landscape, where does the rest of the world stand? Hear from Dr Ieva Martinkenaite from Telenor Group, an AI expert appointed to the EU High-Level Expert Group on Artificial Intelligence (AI HLG), as she shares with us the must-win battles and ethical dilemmas in this new world.
Date : 3 September 2018 (Monday)
Time : 6.30pm to 8.30pm
Venue : 32 Carpenter Street, Singapore 059911
Programme
6:30 pm Registration
7:00 pm Start of Fireside Chat
8:00 pm Networking
8:30 pm End of Event
Speaker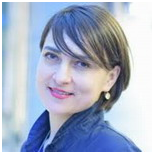 Dr Ieva Martinkenaite
Vice President of Telenor Research
Member of EU High-Level Expert Group on AI
Dr Ieva Martinkenaite is among the key figures at Telenor Group contributing to building the Artificial Intelligence (AI) research and innovation ecosystem in Norway. She holds several high profile regional and national appointments in AI.
A Vice President at Telenor Research, Ieva is part of the team that leads the Telenor-NTNU AI-Lab, a national Centre of Excellence for AI and Machine Learning that recently expanded to transform Norway into an AI powerhouse. She also spearheads Telenor's Start IoT initiative, aimed at stimulating research and innovation in the Internet of Things (IoT) in Norway. Her work involves research and advisory to Telenor executives and business leaders on AI, Internet of Things (IoT), innovation strategy and digital partnerships.
Most recently, Ieva was appointed by the European Commission to the High-Level Expert Group on Artificial Intelligence (AI HLG). As one of the key experts appointed to advise European Union (EU) on the AI ethics framework and policy and investment strategy of AI, Ieva will support the implementation of the European strategy on AI. Concurrently, Ieva heads the AI task force at the largest European Telecommunication Network Operator's Association in Europe (ETNO).
Representing Telenor Group, Ieva is also the national contact point (NCP) for Norway in Horizon 2020 AI4EU consortium project, the largest EU research and innovation project responsible for building an AI-on-demand platform with European industry, research and social partners.
Previously, Ieva served as a senior research scientist and advisor in Telenor. She also worked as a research fellow at BI Norwegian Business School (Oslo, Norway) and Fox School of Business (Philadelphia, USA), and was Vice-Dean at the first business university in Lithuania, ISM University of Management and Economics. Ieva holds a PhD in Strategy from BI Norwegian Business School and has more than 15 years of experience in business research, advisory and academia under her belt across developed and emerging economies. Her passion lies in building collaborative communities for the digital age and mentoring women in technology.

Topics: Artificial Intelligence / Deep Learning / Machine Learning / Robotics