Leadership by Algorithm: Who Leads and Who Follows in the AI Era
Presented by SGInnovate
Partnered with Centre on AI Technology for Humankind
Artificial Intelligence (AI) has been hailed as both the hero and the villain of future business scenarios. While many believe it will result in mass redundancies and global disruption, others see a new dawn of enlightened management and ultra-efficiency that will spur a wave of new business opportunities. However, the scale of impact is still unclear as to how the implementation of AI in the workplace will affect on-the-ground management and leadership in companies in the 21st century.
Delve deep into "Leadership by Algorithm: Who Leads and Who Follows in the AI Era", the recently launched book authored by Prof David De Cremer, Founder and Director, Centre on AI Technology for Humankind, NUS Business School. The book has been featured on The Financial Times' and Wharton School of Business' recommendations and have topped the AI & Semantics chart on Amazon. In this talk, Prof Cremer will discuss the key areas where algorithms will collide with human skills and assesses the likely outcomes. Important questions that will be addressed include:
Will your next boss be a robot?
Can an AI boss display the human qualities that define a good leader - compassion, empathy, imagination, ethics and strategic awareness?
Can organisations optimise their business by means of automation while preserving their human identity?
Date: 16 June 2020, Tuesday
Time: 10:30 am – 11:30am (UTC+8)
Programme:
11:00am – 12:00pm: Leadership by Algorithm: Who Leads and Who Follows in the AI Era
Speaker's Profile:
Prof David De Cremer, Founder and Director, Centre on AI Technology for Humankind, and Provost Chair and Professor, Management and Organisation, NUS Business School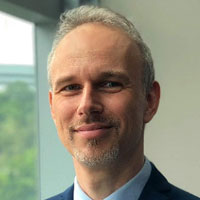 David De Cremer is the provost chair and professor in Management and Organisation at NUS Business School. Before moving to NUS, he was the KPMG endowed professor of management studies at Cambridge Judge Business School (CJBS), and a fellow at St. Edmunds College, University of Cambridge (UK). He is now a fellow at CJBS and St. Edmunds College (University of Cambridge), an affiliate researcher at the Justice Collaboratory at Yale Law School, Yale University (US), and a visiting fellow at the Hoover Institution, Stanford University.

He is the founder and director of the (corporate-sponsored) Centre on AI Technology for Humankind (AiTH) at NUS Business School. He is also a scientific advisor to Novartis (the Ethics-based Compliance Initiative) and KPMG (building trustworthy climates). He received his PhD (behavioural economics and psychology) from the University of Southampton, England, an MA from Cambridge University, and an MSc in social psychology and BA in philosophy from the University of Leuven, Belgium. In the past, he has been at the faculty as a (visiting) professor at New York University, Harvard University, China Europe International Business School (CEIBS) and London Business School.

He has published over more than 300 academic articles, and book chapters in the fields of psychology, organisational behaviour and management and have edited several academic books integrating the fields of economics, management, psychology and finance by employing behavioural approaches. He is also a best-selling author, having sold over more than 1 million copies of his latest book "Huawei: Leadership, culture and connectivity," which received the PwC best business book award in Russia. His new book "Leadership by Algorithm: Who leads and who follows in the AI era?" is being published in May 2020. His work has been discussed in media such as Scientific American, Bloomberg News, The Economist, Forbes, The Financial Times, Harvard Business Review, The Straits Times, The Business Times, Channel News Asia, The Economist Intelligence Unit, Wall Street Journal, CBS Money Watch, The Sunday Times, Daily Telegraph, and BBC.
He has considerable experience in executive teaching and corporate consultancy on a global scale. He provided consultancy to companies like, among others, Novartis, Barclays, AB Inbev, HSBC, Mizuho, Apple, Flemish government, Vodafone, Solvay, Nestle, Exmar, Citigroup, IBM, Nestle, Standard Chartered Bank, Rabobank, ING, Bayer, Cisco, DSM, AstraZeneca, and Huawei.

In 2005, he received the honour to become a fellow of the Royal Dutch Academy of Science. In 2009-2010, he was named the most influential (behavioural) economist in the Netherlands (Top 40 of economists). In 2016, he was named one of the Global Top Thought Leaders in Trust by the organisation Trust Across America (alongside late management gurus Stephen Covey and Richard Edelman, President and CEO of Edelman; publisher of the annual Edelman Trust Barometer), whose annual list recognises people for efforts "in elevating societal trust." In 2017, he received an honorary medal from Zhejiang Province (China) for his contributions to Chinese business and society. In 2020, he was named one of the world's top 30 gurus and speakers in management by the global organisation gurus.