How AI Improves Customer Experience and Employee Productivity
Presented by SGInnovate and Salesforce
Join our workshop for corporates, on How AI Improves Customer Experience and Employee Productivity, for insights on how AI-powered chatbots, when connected to deep customer data, can deliver powerful new customer service experiences and help service organisations scale at a low cost.
We will discuss how leading corporations are using AI to deliver the future of customer service, to help customers get to answers faster in a personalised way, and also delve into how you can get your companies ready for working with bots and best practices for implementing Einstein Bots to reduce time and effort for both your customers and agents.
Myriads of leisure chatbot examples are out there. But how does the chatbot explosion translate to business value? Why should you care about chatbots for your companies? Why is it important for a business to have a chatbot? Let's uncover some of these and other topics together. Chatbots are not new, but there's a reason why bots are hot right now, and businesses can stand to benefit. With the recent rise of AI, chatbots have become a lot smarter and they understand customers more accurately than a bot could ten years ago. More and more businesses are now looking into chatbots as a practical channel to provide instant service to their customers.
Date: 4 July 2018
Time: 4:00pm – 6:00pm
Venue: 32 Carpenter Street
Programme:
4:00pm – 4:30pm: Registration and Networking
4:30pm – 5:30pm: How AI Improves Customer Experience and Employee Productivity
5:30pm – 6:00pm: Networking and End
Speaker: Vijay Iyer, Head of Customer Experience Specialists, Asia & India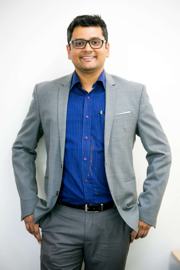 Vijay Iyer leads a team of ninjas who help organizations bring down boundaries, create amazing experiences and build lifelong relationships with their customers. With more than 10 years in Cloud Computing technologies, Vijay believes Cloud is the only way for delivering intelligent customer service. Vijay specializes in Financial Services, Retail, Automotive, Communications and Healthcare industries and has a Masters in Electrical Engineering from Arizona State University.
Topics: Artificial Intelligence / Deep Learning / Machine Learning / Robotics