Explainable AI in Finance [Online Event]
Presented by SGInnovate
Artificial Intelligence (AI) is changing the world around us as AI applications grow. Every day in the Finance industry, AI systems are buying and selling millions of financial instruments, assessing insurance claims, assigning credit scores, optimising investment portfolios, etc. However, it is not enough for AI systems to perform well. We need to understand how they work so we can trust them enough to use them to their full potential.
The human brain inspires many of the advanced machine learning algorithms that power AI systems, yet they lack the human ability to explain their actions or reasoning. This is why research in the field of Explainable AI (XAI) is so crucial in helping us understand the rationale behind AI decision-making. In this session, hear from thought leaders in the field of AI as they discuss how XAI will be a critical factor in successful implementations for the finance industry but how regulations and risks may be the key obstacles preventing them from even entering the market.
Date: 19 August 2020, Wednesday
Time: 10:00am – 11:00am (Singapore Time / UTC+8)
Programme:
10:00am – 11:00am: Panel Discussion on Explainable AI in Finance with
Dr David Hardoon, Senior Advisor for Data and Artificial Intelligence, UnionBank Philippines
Dr Shonali Krishnaswamy, Chief Technology Officer, AIDA Technologies
Prof Manuel Morales, FinML Director and Professor, University of Montreal
Moderator: Sanjna Parasrampuria, Head - Applied Innovation (Asia), Refinitiv Labs
Speakers' Profiles:
Dr David Hardoon, Senior Advisor for Data and Artificial Intelligence, UnionBank Philippines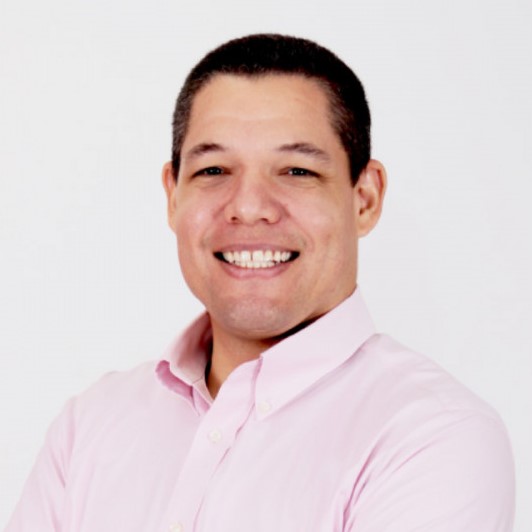 David is the Senior Advisor for Data and Artificial Intelligence (AI) at UnionBank Philippines.
Concurrently David is an external advisor to Singapore's Corrupt Investigation Practices Bureau (CPIB) in the capacity of Senior Advisor (AI) and Singapore's Central Provident Fund Board (CPF) as Senior Advisor (Data Science).
Prior to his current roles, David was the Monetary Authority of Singapore's (MAS) first appointed Chief Data Officer and Head of Data Analytics Group reporting to the agency's Deputy Managing Director for Financial Supervision, and subsequently, Special Advisor (AI) reporting to the Deputy Managing Director for Markets and Development. In these roles, he led the development of the AI strategy both for MAS and Singapore's financial sector as well as driving efforts in promoting open cross-border data flows.
David has extensive exposure and experience in both industry and academia, and he has consistently applied advanced technology with an analytical mindset to shape and deliver innovations. David holds a PhD in Computer Science in the field of Machine Learning from the University of Southampton and graduated from the Royal Holloway, University of London with a Bachelor of Science (First Class Honors) in Computer Science and AI. Out in the "field", David is more likely to consider himself a data artist instead of a pure data scientist.
Dr Shonali Krishnaswamy, Chief Technology Officer, AIDA Technologies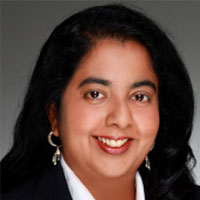 AiDA is a multi-award winning Machine Learning (ML) startup from Singapore, delivering AI / ML solutions to Insurance and Banking in the ASEAN region. Prior to co-founding AiDA, Dr Shonali Krishnaswamy was Head of Data Analytics at A*STAR's Institute for Infocomm Research (I2R) where she led one of Singapore's largest analytics teams with over 70 data scientists. She has also held multiple professional appointments in Australia at Monash University and Swinburne University. Over the last 15 years, she has pioneered research in Mobile and Ubiquitous Data Analytics and published over 150 papers. Dr Shonali is the recipient of several national and international awards including the Institute of Engineers Singapore's Prestigious Engineering Award, the ASEAN Outstanding Engineering Award, the IBM Innovation Award and the Australian Research Council's Australian Post-Doctoral Fellow Award.
Prof Manuel Morales, FinML Director and Professor, University of Montreal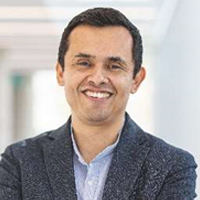 Prof Manuel Morales is an experienced scientist and leader in the field of Artificial Intelligence (AI) in Banking. He often gets called upon for his knowledge and experience in creating business value through AI and has experience in accompanying businesses through their digital transformation. Based on his scientific expertise, he seizes the threads of opportunity that wind through an organisation and helps transform them into value propositions. Prof Manuel remains a member of the scientific community which gives him a valuable perspective and credibility as he links up and aligns technical data science teams with product owners/managers into a coherent AI transformation strategy.
As Chief AI Scientist at the National Bank of Canada, the sixth-largest commercial bank in Canada, Prof Manuel oversaw the scientific component of the AI transformation initiative of this twenty billion dollar plus banking institution. He successfully contributed to the strategy and operationalisation of an ambitious effort that seeks to transform the bank's processes and services through AI. In particular, his involvement in worldwide discussions on AI Ethics and his commitment to responsible AI deployments gives him a unique perspective that has become an asset for the ongoing AI transformation initiative, as a comprehensive AI governance and ethics policy remain key to successful deployments. His work with the National Bank was featured in an interview piece in Forbes' online magazine in May 2020.
Prof Manuel continues to conduct his research and teaching activities at the University of Montreal where he is the Director of the FinML network. His mandate is to train the next AI-enabled generation of finance and banking professionals. He has also established himself as a well-known presence in the Montreal FinTech ecosystem where he is a scientific advisor of the Holt Accelerator, one of the leading accelerators in Montreal targeting seed startups, as well as one of the Co-founders of the OCF Group, a venture building group that leverages Montreal AI talent to help startups go from Series A to Series B through Machine Learning technology. He is regularly called upon to deliver talks and share his experience on AI transformation in banking, AI Ethics and Governance in Finance, as well as to organise tailored executive workshops for financial institutions engaged in their own AI transformation initiative.
He holds a PhD in Statistics from Concordia University. He held a position as an Assistant Professor at York University in Toronto from where he moved to Montreal where he has been a Professor in Mathematics at the University of Montreal since 2005. He serves on the Board of Directors of Koïos Intelligence and as Scientific Advisor of Kapitalwise, both emerging companies in the field of AI in Finance and Insurance.
Moderator's Profile:
Sanjna Parasrampuria, Head - Applied Innovation (Asia), Refinitiv Labs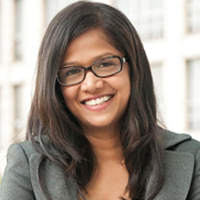 Sanjna Parasrampuria spearheads Refinitiv Labs in Asia. Refinitiv Labs leverages emerging technology to create innovative products using Artificial Intelligence (AI) techniques of Natural Language Processing (NLP), Machine Learning and Data Visualisations for the finance and risk markets.
Sanjna has successfully led large corporations and startup companies by leveraging emerging technology, advanced analytics & data. Currently, she is pioneering several AI-driven innovations breaking new ground in the alpha generation, risk mitigation, financial crime prevention, event correlation and sentiment detection.
She brings together 18 years of experience in tech innovation grounded in strategic planning, deep empathy for the customer, and a keen understanding of how technology and data can deliver new value.
Sanjna is an active investor and advisor to FinTech and RegTech startups, as well as an Entrepreneur-in-Residence at INSEAD. She holds an MBA from INSEAD (France), a Post-graduate Masters in Finance and a Graduate Degree in Mathematics.