Location
SGInnovate
32 Carpenter Street
Singapore 059911
Blockchain for Impact: Sustainability in a Threatened World
Presented by SGInnovate
Partnered with Poseidon
How Technology Can Be a Force for Good - As the threats of climate change increase, how can we use technology to sustain our world? In this session, we will be discussing how Forest Conservation should be our immediate response in combating the ever-growing consequences of climate change and how technology can be used as an enabler through the "reduce" platform and use cases.
Poseidon's "Reduce" platform is part of their global effort to save the planet, where this solution draws its power from conserving rainforests and has the potential to reduce an amazing 20% of greenhouse gas emissions from carbon dioxide.
Date: 15 January 2019, Tuesday
Time : 5:00pm – 7:00pm
Venue: 32 Carpenter Street, Singapore 059911
Speaker: Laszlo Giricz, Founder & CEO, Poseidon
Programme Details:
5:00pm – 5:30pm: Registration
5:30pm – 6:30pm: Blockchain for Impact: Sustainability in a Threatened World and Q&A
6:30pm – 7:00pm: Networking and End
Speaker' Profile:
Laszlo Giricz, Founder & CEO, Poseidon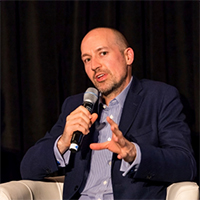 Before his emergence as a leader in eco-focused blockchain technologies, Laszlo served for nearly two decades as a business and technology expert for some of the world's largest investment banks. His clients, including JP Morgan Chase, Deutsche Bank and UBS, enjoyed the results of his ability to develop and integrate custom trading and risk management solutions that were used in some of their most critical business sectors. His experience in these areas, coupled with his keen interests in nature, blockchain technologies and digital assets, gave birth to Poseidon and the reduce platform. Laszlo's goal is to develop technologies which usher in a new era of problem-solving for humankind's most existential threat: climate change.
Topics: Blockchain