Location
SGInnovate
32 Carpenter Street
Singapore 059911
WHEN DEEP TECH MEETS AGRICULTURE: How AI and Blockchain Can Disrupt the Agrifood Value Chain by Establishing Traceability
Presented by SGInnovate and ID Capital
The Agri-Food industry has often been considered one of the least innovative industries. However, given the rise of new business models powered by new technologies, the industry is undergoing a phase of disruption. This session will provide a perspective on the role deep tech plays in enhancing the food value chain, such as by establishing models of trust and traceability and assisting farmers and producers in how to better predict and protect their yield.
Date: 10 April 2019
Time: 4:30pm – 6:30pm
Venue: 32 Carpenter Street, Singapore 059911
Programme Details:
4:30pm – 5:00pm: Registration
5:00pm – 6:00pm: Panel Discussion
6:00pm – 6:30pm: Networking
Speakers:
Tanmay Bhargava, Head of Asia Pacific, Intello Labs
Roshith Rajan, Director of Corporate Responsibility in Asia Pacific, SODEXO
Isabelle Decitre, Founder & CEO, ID Capital
Jun Wei Chuah, Regional Manager, Alibaba Cloud
Kwan Chungmin, Partner, Yusarn Audrey
Moderator:
Drew Perez, Managing Director, Adatos.AI
Speakers' Profiles:
Tanmay Bhargava, Head of Asia Pacific, Intello Labs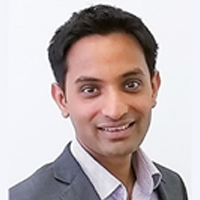 Tanmay is the Head of Asia Pacific Operations for Intello Labs. Intello is an award-winning agritech startup that provides image-based and AI-enabled commodity grading applications to agriculture and food companies. As a part of the leadership team, he leads the regional sales, strategy and business development activities.
Previously, Tanmay was the Director of Investments for New York-based Community Development Venture Capital Alliance and provided early stage capital to young companies in underinvested geographies of the United States. Having also led a fund initiative for agritech opportunities in India, he is experienced in fund investing, fundraising and fund formation activities. Prior to this, he worked with CRISIL Ltd. on quantitative and thematic equity trading strategies.
Tanmay holds an MBA from New York University's Stern School of Business and is an alumnus of Indian Institute of Technology Bombay. He currently resides in Singapore with his family.
Roshith Rajan, Director of Corporate Responsibility in Asia Pacific, SODEXO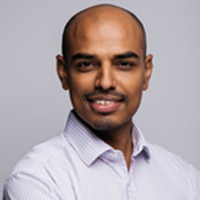 Based in Singapore, SODEXO is a world leader in quality of life services and serves 100 million customers daily. Roshith Rajan is responsible for the development and execution of SODEXO's Corporate Responsibility roadmap in Asia Pacific, also known as 'Better Tomorrow 2025'. The roadmap focuses on areas of responsible and sustainable food, food wastage, single-use plastics, insecurity of food supply, small and local business inclusion and gender balance/ women empowerment in communities. As Director of Corporate Responsibility, he influences internal and external stakeholders and integrates business value into business strategy and everyday operations over the 14 APAC countries and 70,000 employees. He also heads 'Stop Hunger' in Asia Pacific, a leading force in the fight against hunger and malnutrition which plans to impact 100 million beneficiaries by 2025.
Isabelle Decitre, Founder & CEO, ID Capital
Isabelle has had a 20-year corporate career in the luxury and beverage industries before moving to Singapore in 2012 and setting up ID Capital.
She was previously the Senior Vice President of Marketing & Communications for Hennessy as well as Member of the Executive Committee. This included her significant involvement in the upstream sector of Viticulture. Prior to this, she was with Louis Vuitton, Cartier, Dunhill and Boucheron, as the Supply Chain Director, Retail Network Director and CMO respectively.
After careful research on a potential emerging sector to invest in, she was convinced that the foodtech and agtech sectors were bound for dramatic change. For the next two years, she reviewed venture deals and invested as a private investor.
The idea of the FFA was born in May 2016 after potential co-investors expressed interest in her foodtech and agtech deal flow and idea to help startups to grow their venture by greatly benefitting from regional exposure.
Jun Wei Chuah, Regional Manager, Alibaba Cloud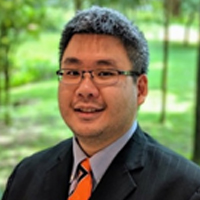 Jun Wei is currently Regional Manager (Smart City Solutions) at Alibaba Cloud and oversees the architecting novel IoT solutions for the future Smart City. These solutions leverage on Alibaba Cloud's ET Brain Platform to enable vertical spanning of city management, smart buildings and healthcare. Jun Wei has over 10 years of experience in IoT across embedded system design, sensor networks, data analytics and IoT solutions. He is especially interested in the seamless application of useful technologies onto traditional industries such as construction, facilities management and manufacturing.
Prior to his role in Alibaba Cloud, Jun Wei was Head of IoT and Data Science at Surbana Technologies (a subsidiary of Surbana Jurong Group), where he led a team of engineers and data scientists to support and enhance the Smart City in a Box platform. Prior to this role, Jun Wei managed a department of scientists and engineers at the Institute for Infocomm Research under the Agency for Science, Technology and Research (A*STAR). The department specialises in energy research with a focus on energy storage, energy analytics and green building technologies.
Jun Wei holds a Doctorate in Electrical Engineering from Princeton University and a Bachelor's Degree in Electrical and Computer Engineering from Carnegie Mellon University. He was also awarded the A*STAR National Science Scholarship (BS-PhD) in 2004.
Kwan Chungmin, Partner, Yusarn Audrey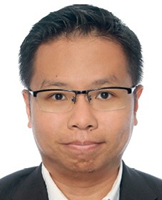 Kwan Chung Min is a registered Singapore patent attorney and a partner at Yusarn Audrey's patent department. He graduated with a bachelor's in electrical engineering from the National University of Singapore and holds a graduate certificate in IP law from the same university.
Mr Kwan's main areas of practice include electrical engineering and medical devices, particularly in integrated circuit control, medical device control and apparatus, fintech and applications of artificial intelligence. In addition, his work frequently involves construction technology, logistics application and industrial control systems. Increasingly, Mr Kwan's work involves IP due diligence.
In his quest to acquire IP knowledge in other jurisdictions, Chung Min was awarded the inaugural IP Academy Singapore and the Franklin Pierce Center for Intellectual Property (FPC) Summer Institute Scholarship. Chung Min obtained certificates in both IP Management and Advanced Patent Law. In August 2015, Chung Min was selected by the Japanese Government to represent Singapore in the Japan Patent Office (JPO) Training Course for Practitioners Specializing in Patents. Chung Min was awarded a full sponsorship by the JPO.
Moderator's Profile:
Drew Perez, Managing Director, Adatos.AI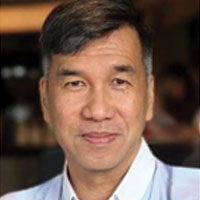 Drew founded Adatos in 2015 after a 27-year career as a US Intelligence Officer. Adatos A.I. is a deep learning company that specializes in Agriculture and Forestry for food security and sustainability. To date, Adatos has tackled over 128 use cases to date in over 15 industry verticals.
Prior to launching Adatos, Drew co-founded the Lockheed Martin Center for Security Analysis and in 2005 was charged with the declassification of Intelligence Analytic Tradecraft methodology for the private sector. He has consulted with PwC, Thomson Reuters and Accenture.