Back to all blogs
Solving healthcare challenges in Asia Pacific through open innovation
A conversation with Chris Lee, President, Asia Pacific, at Medtronic, about the need for new modes of collaboration to drive innovation and solve the region's unique healthcare challenges.
In a conversation with Chris Lee, President, Asia Pacific, Medtronic, he talked about the need for new modes of collaboration to drive innovation and how to solve the region's unique healthcare challenges.
---
What are some of the most pressing healthcare issues in the region that can be tackled with technology?
APAC is a diverse region, with each market facing its own unique healthcare challenges. Some trends that we have observed include an ageing population, rising healthcare costs, and shifting consumer expectations. Consumers are more informed about their conditions than ever, more engaged, and expect better healthcare experiences.
New modes of collaboration, such as open innovation, can serve as a gateway between our own global network and innovators across the region to solve these challenges meaningfully with technology. Together, we aim to build capabilities in areas such as artificial intelligence, robotics, and digital health, to improve healthcare delivery and reduce barriers to affordable care.
How do you encourage creativity and 'thinking outside the box' in an industry where protocols and regulations are paramount to protecting patient safety?
Internally, we've been championing a culture of innovation through our employee idea generation platform called MDT Spark. Launched in 2019, the internal innovation challenge provides funding, senior counsel, and resources to implement the most promising ideas around process or product improvement. Of the 531 ideas submitted to date, Medtronic has invested in 24 of the most promising projects that have provided innovative solutions to improve our business operation and how we support doctors and patients.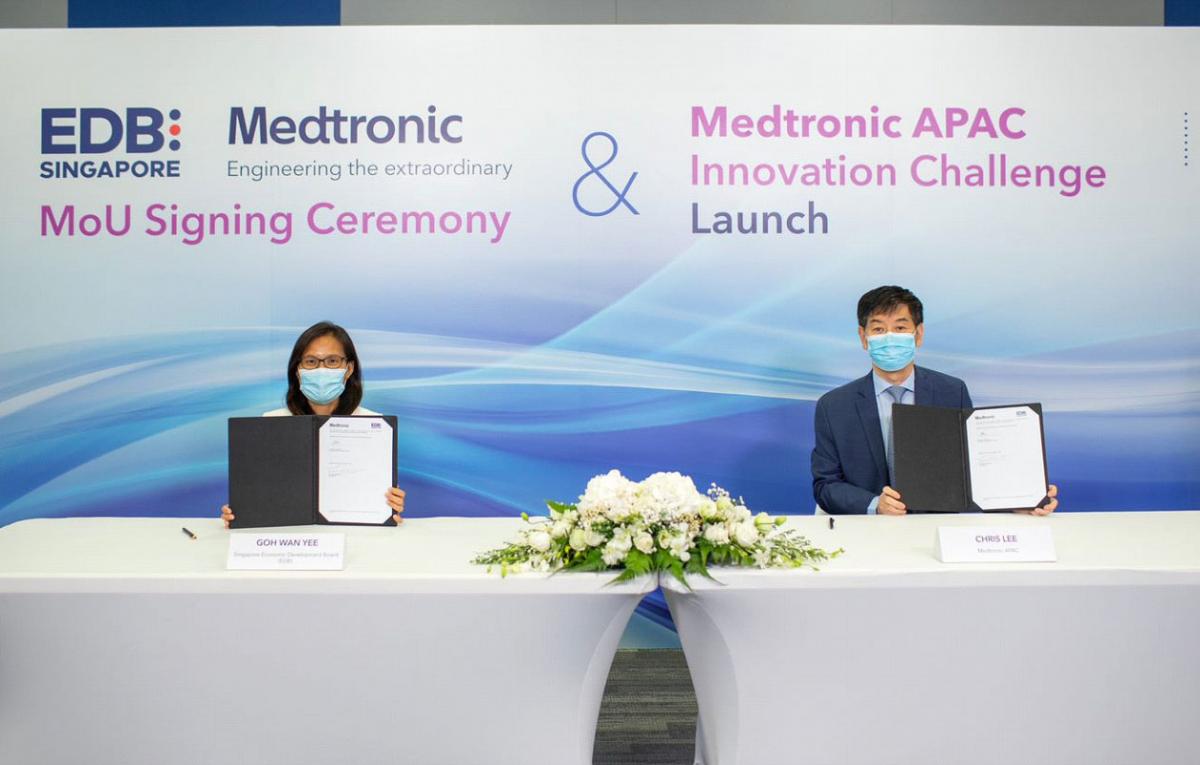 At the launch of the Medtronic Open Innovation Platform (OIP) supported by the Economic Development Board of Singapore. Wan Yee Goh, senior vice president and head, Healthcare, EDB (left) and Chris Lee, president for Asia Pacific, Medtronic (right) signed the MOU, which will focus on development of talent and technology under this platform.
Building on this concept, the Medtronic APAC Innovation Challenge (MAIC) will see a similar sourcing of ideas, but from the external innovation community. Launched in October this year, the challenge seeks technopreneurs and startups that can accelerate life-transforming technologies, bring better outcomes for all through tailored solutions, simplify healthcare by delivering experiences that put people first, and drive personalised healthcare solutions through insight-driven care.
What are some common roadblocks faced as healthtech startups go to market, and are there any pointers you can share for startups about to launch new healthtech products?
Singapore's Health Minister, Ong Ye Kung, recently shared his sentiment that "digital disruption in healthcare is unlikely to happen as quickly as in other industries, given the complexity of the sector". This view is aligned with our understanding of the challenges MedTech startups face.
The process of developing MedTech solutions is typically longer and more expensive than other tech startups. MedTech startups also face more difficulty securing venture funding as investment risks are typically higher and returns slower. Venture Capitalists in the APAC region are more likely to invest in startups that are already generating revenue or could prove quick returns, whereas MedTech solutions require a much longer gestation period of between three to five years before churning their first revenue dollar.
My advice to MedTech startups will be to stay close to the ground – talk to healthcare providers and patients along the journey – and create solutions that put people first; and when it comes to investors, look for strategic partners who can offer support and industry expertise, not just funding.
What role does the Open Innovation Platform (OIP) play in Medtronic's long-term strategy to collaborate with startups and academia?
We recently launched the Medtronic Open Innovation Platform (OIP) in mid-Oct 2021, with the aim to build capabilities and innovations in Artificial Intelligence, Robotics, Machine Learning, Internet of Things and Digital Health, in addition to the Medtronic Portfolio.
Our Medtronic OIP is a holistic approach towards driving collaborative innovation that includes Medtronic APAC Innovation Challenge (MAIC), as well as the Digital Medtronic Innovation Centre (dMIC) to provide immersive digital experience and foster partnership across the ecosystem. Coupled with our internal Innovation program MDT Spark 3.0, these programs will complete Medtronic's efforts in creating a multi-dimensional Open Innovation Platform.
The MAIC gives healthcare businesses, including startups, a chance to shape the future of medical technology and digital healthcare in APAC, and develop accessible healthcare solutions tailored for the region. The Challenge will scout for ideas under four specific areas: life-transforming technologies, better outcomes for all, experiences that put people first and insight drive care. Startups will gain access to Medtronic's commercial infrastructure, network, partners and existing MedTech solutions which can serve as a launchpad to accelerate their innovative technologies and digital solutions.
The Challenge's call for submissions closed in end-Nov 2021, and received well over 300 applications! We are currently in the review process, and you will hear more about the outcome in the coming months
Do you have any advice for MedTech founders building their teams? What are some of the areas they should be paying attention to in the area of nurturing talent?
People are the heart of any business, no matter an MNC or a startup. At Medtronic APAC, we put our employees first in everything we do, and we offer it before they ask. Every day, we expect our employees to go above and beyond in caring for our patients, physicians, and customers. So, we must first go above and beyond in caring for them. It is also important to recognise and reward good work. We offer the necessary resources and tools that employees need to learn new skills, grow in their careers, and enjoy the work they do.
One such example is a talent development program called Talent X. The program aims to offer employees cross-department, cross-regional exposure and learning as they venture into rotational job placements for a period of 12-months. The program saw a virtual evolution in the wake of travel restrictions around Covid-19, and today we offer the same virtually, under a branch of our program called e-TalentX. It allows employees to retain their current role in their present location while taking on additional exposure to projects in the region by way of committing a part of their time to it. Offering a similar experience to regional projects, but without having to leave their current location, this installation of the program has also allowed some employees who previously craved the regional exposure but had limitations on up taking overseas assignment postings.
The most popular projects for our applicants so far have been for Strategic Planning for Growth/Transformation initiatives, followed by Communications and Supply Chain, and Customer Care.
Such cross-discipline assignments not only challenge and build individual skillsets, but also develop multi-disciplinary competencies within our existing talent pool. Programs such as these are a great way for startups to build a strong team with a limited talent pool, while also helping develop individuals who will drive great value to the organisation in the long run.
Looking ahead, in which areas of MedTech do you foresee the greatest potential for growth and innovation?
We are advancing many technologies here in APAC, but one of the most promising is Robotic-Assisted Surgery (RAS). Just last month, the first HugoTM robotic-assisted surgery (RAS) clinical procedure in APAC was successfully performed in India. It was a huge milestone – not just for our India team but for our teams across the region. Technological developments like HugoTM make minimally invasive surgery more accessible to doctors and hospitals; our training centres and curriculum, like our newly inaugurated Surgical Robotics Experience Center (SREC) in Gurugram, ensure that medical professionals know how to use them. Together, they will play a critical role in addressing the region's future healthcare needs, such as improving the efficacy of patient care amid a global shortage of health workers, which is estimated to grow to 18 million by 2030, according to the World Health Organisation's prediction models.
Given the scale of our healthcare challenges, no single company can solve every problem on their own. That's why we believe innovation should come from anywhere – and we look forward to collaborations via the OIP that will help us advance medical technology on behalf of patients across the region.
What are some of the exciting regional collaborations or innovations that have emerged through the Medtronic Engineering and Innovation Centre (MEIC) since its launch?
The Medtronic Engineering and Innovation Centre (MEIC), one of our largest R&D centres outside the US, was established in June 2011 in Hyderabad, India. It is a state-of-the-art, IT-enabled, engineering R&D centre spanning over 80,000 square feet, and employs more than 200 highly-qualified engineers. It provides high-quality, high-performance, cost-effective R&D engineering support to Medtronic's products and its global and regional business units, supporting their product development and other engineering functions.
Since its inception, MEIC has been committed to co-ideation with startups, incubators and academia within the local healthcare ecosystem for the over 70 types of therapy areas that Medtronic serves. Bringing together Medtronic's commercial organisations and business units, we have worked together on generating ideas and identifying needs based on Voice of the Customer within MEIC's facilities, such as our design-thinking labs.
MEIC has contributed significantly to various global innovations at Medtronic, including two important milestones:
The development and testing of the HugoTM Robotic-Assisted Surgery System (RAS), including algorithm developments and data analytics, with full accountability for tool validation, coverage testing and Instrument Drive Unit sub system verification.
Supported the Vital SyncTM monitoring and Clinical Decision Support System, which enables healthcare practitioners to monitor patients remotely and deliver care safely through remote monitoring, alarm management, reporting and emergency room connectivity. The ability to deploy this system remotely helped minimise clinician exposure during the COVID-19 pandemic.
In the past decade, Medtronic has invested heavily in providing the necessary infrastructure to incubate innovative solutions in the region, and will continue to do so under our new OIP. The successes from MEIC will offer us valuable insights on collaborating with ecosystem partners, including hospitals, startups and academia partners in APAC, as we prepare for the launch of our Digital Medtronic Innovation Centre (dMIC)in Singapore in 2022.
To learn more about how SGInnovate is fostering corporate-startup collaboration across industries, visit our Open Innovation platform here.