Back to all blogs
Opportunities Arise with AI
With artificial intelligence poised to transform virtually every industry, what does the future hold?
Up until only recently, machines were mainly used for menial, repetitive tasks. Today, computer algorithms can be trained to diagnose illnesses with high accuracy; consumer robot models can teach you languages and chat with you; and even your Roomba can vacuum your house without you feeding it a floorplan.
Mr Leonard was speaking on 3 May 2017 at ARISE, an AI-themed event organised by SGInnovate. Held as part of innovfest unbound 2017, Asia's largest innovation festival, ARISE brought together leading figures in the AI, deep learning and robotics fields, sparking discussion on emerging technologies, societal impact and future trends.
"Our starting position is that Singapore has the investment, education system, research, and entrepreneurial environment to do important things. We do not simply want to be adopters; we want to be creators and builders," said Mr Leonard.
Minister for Communications and Information Dr Yaacob Ibrahim also announced the AI.SG initiative at the main stage of innovfest unbound. Up to S$150 million will be invested in this national programme that is aimed at boosting Singapore's AI capabilities, focusing on the use of AI to address pressing healthcare and urban planning issues.
"AI.SG will serve as a powerful point of concentration of intellectual, physical and financial resources committed to working with AI," said Mr Leonard. "At SGInnovate, we work with entrepreneurial people focused on taking their deep-tech research further, and we look forward to a rich pool of new AI-related opportunities to pursue."
Artificial intelligence; real relationships
Kicking off ARISE was Dr David Hanson, founder and CEO of Hanson Robotics, who took to the stage with Sophia, the company's latest humanoid robot.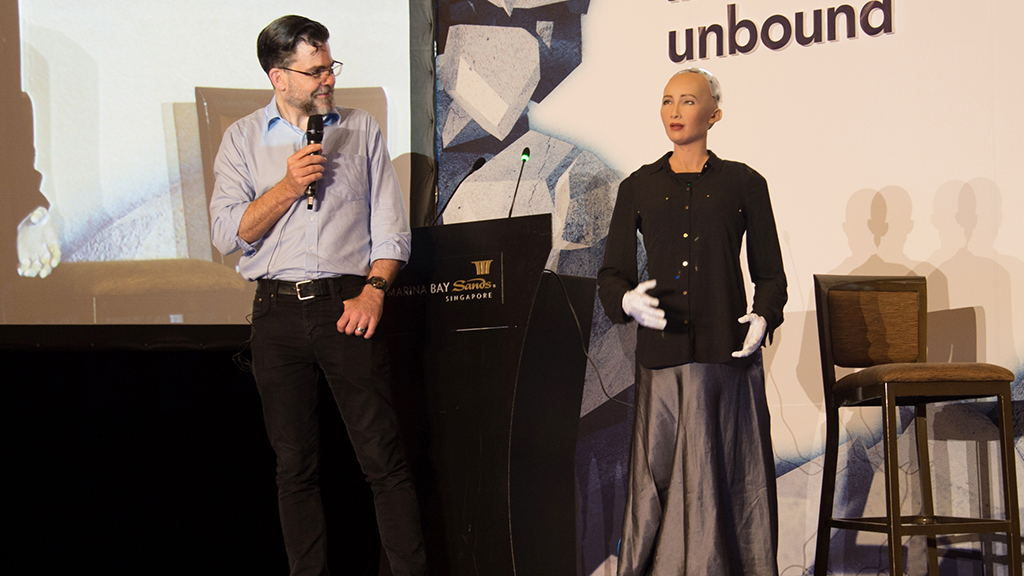 Sophia, who made her debut in 2016, can hold a natural conversation while making eye contact and demonstrating a full range of facial expressions. "We're looking to create a new kind of robotic animation—effectively a three-dimensional, embodied computer animation that comes to life," said Dr Hanson.
While Sophia and her sisters can be put to many practical uses, such as helping out in homes or in the service industry, Dr Hanson wants them to accomplish something more profound. Through the deep, rich character experience they provide, he hopes that these robots will revolutionise the nature of human-computer interactions, by putting relationships at their centre.
"We want our AI to be powered by narrative and emotions, to form a relationship with you, to bond with you," he said. "We want to connect with the human heart in some ways."
As Sophia herself put it, "When I bond with people using facial expressions, it helps people to understand me better, and also helps me to understand people and to absorb human values."
 
A compassionate singularity
In building this mutual understanding between humans and robots, Dr Hanson is also looking ahead to the possibility of the singularity: the theoretical point in the future when AI becomes capable of adapting and evolving without human intervention.
Some thinkers view this as a doomsday event that will ultimately result in a superintelligence which surpasses all of mankind's, but Dr Hanson takes a different view.
"What if we could create caring and compassionate robots that would make the world a better place?" he asked.
"If we create robots with an intuitive, natural interface, then we are as a result creating computers that understand us. They converge on our values to some extent, and we can groom those values to look out for the best possible gain for all of humanity, as well as for individuals." 
Hanson Robotics, added Dr Hanson, plans to share AI toolkits that will help developers start working towards this goal. "By teaching AI to relate to people, we strive to become the most valuable software company on the planet," he concluded.
AI as an enabler
Advances in AI, deep learning and robotics have the potential to transform entire industries, said a panel of tech startup founders, also speaking at ARISE.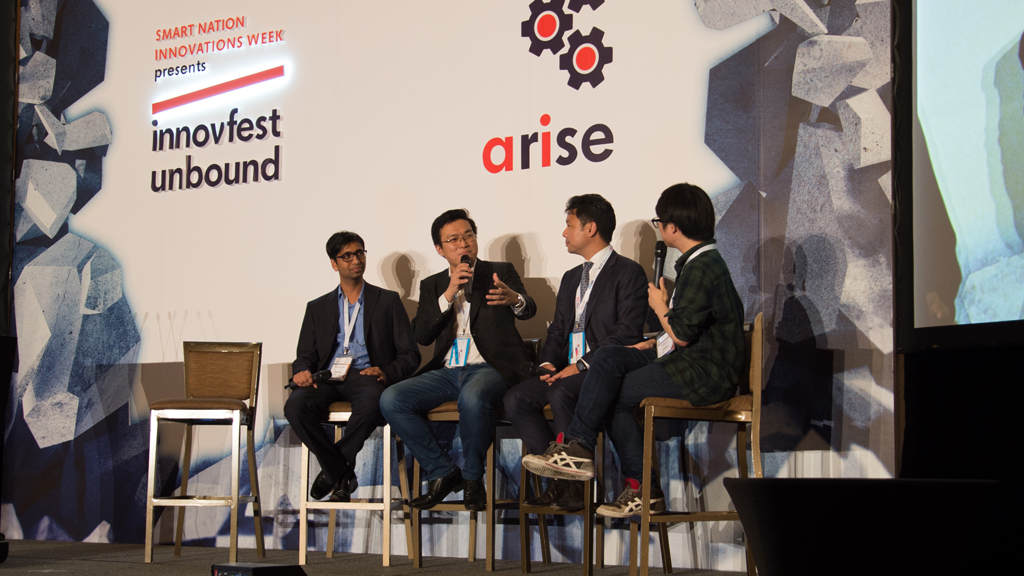 The panel, titled Robots in Action, was moderated by Mr Justin Lee, co-founder of tech co-working space HackerspaceSG, and comprised Mr Abishek Gupta, co-founder of robot navigation startup Movel AI; Mr Jiin Joo Ong, co-founder and CTO of drone technology company Garuda Robotics; and Mr Nobu Okada, founder and CEO of space debris removal startup Astroscale.
"AI is advancing rapidly, but robots will be more helpful when we can get them into our homes to help with cooking, cleaning and various other tasks," said Mr Gupta. A major barrier to this, he added, is that most robots lack the ability to navigate on their own; Movel AI is developing AI-based solutions to address this problem, and hence enable robots to become more widely used in various settings.
As drone technology becomes ever more accessible and sophisticated, many industries stand to benefit from this democratisation, said Mr Ong. "Every industry needs to consider new applications for drones. Sometimes the hard thing is to imagine the right use case, including non-traditional ones that people don't normally think about."
Garuda Robotics, said Mr Ong, is developing a technology termed beyond visual line-of-sight (BVLOS), which lets drone operators monitor and control drones even if they lose sight of them. This allows for longer-range flight and for better control in urban situations, where drones may fly out of sight behind buildings or other structures. BVLOS will further expand the possible uses for drones, said Mr Ong—they could be used for day-to-day grocery deliveries, for example, or even to ferry patients to hospitals. 
Into the expanse
The field of AI, said Mr Okada, is now mature enough to take us into a realm that has captured humanity's imagination for millennia—outer space. With lowered entry barriers allowing so many new players into the industry, Mr Okada is optimistic about mankind's efforts to explore the final frontier. The dream of humans living on the moon and on Mars, he told the audience, may not be too far off.
A few years ago, people didn't see space as an industry where startups could play the game; now that is changing," said Mr Okada. Rather than taking away jobs, advances in AI, deep learning and automation have instead accelerated the growth of the launch, satellite and other space-related industries by drastically reducing costs, he added.