AI Today: Disruptor or Enabler?
Presented by Innovation and Networking Society of Singapore Institute of Management (IONS-SIM)
Partnered with SGInnovate
Artificial Intelligence (AI) has provided humanity with opportunities for creating growth and prosperity with its seemingly endless potential. It has disrupted various industries to benefit businesses and our society as a whole.
These triumphs are impressive but at what cost? Is AI genuinely solving human problems? And is it an enabler or a disruptor in today's society, our jobs and our lives?
Date: 20 February 2020, Thursday
Time: 6:30pm – 8:30pm
Venue: 32 Carpenter Street, Singapore 059911
Speakers:
Bernard Golstein, CEO & Founder, sharperAI
Latif Sim, Chief Information Officer, Boogle Group and Principal, Boogle Academy
Thu Ya Kyaw, Machine Learning Engineer, NTUC Enterprise
Programme Details:
6:30pm – 7:00pm: Registration
7:00pm – 8:00pm: Panel Discussion and Q&A
8:00pm – 8:30pm: Networking
Speakers' Profiles:
Bernard Golstein, CEO & Founder, sharperAI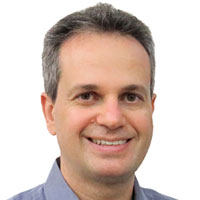 Bernard Golstein is the CEO and Founder of sharperAI, a boutique consultancy helping organisations transform and reap the benefits of Artificial Intelligence (AI).
Bernard contributes to thought leadership on AI (such as the Future of Work, the Future of Education, etc.) through think tanks, industry associations, keynote speaking and discussion panels. He is the author of 'Duality: Prepare Yourselves and Your Children for the Age of Artificial Intelligence'. He also teaches Digital and AI transformation at a leading Business School.
Bernard has been leading and advising organisations and individuals for nearly 25 years. Prior to sharperAI, Bernard founded, grew and successfully exited a first-of-its-kind fully digital EdTech start-up. Before that, he spent 15 years in an energy management multinational corporation, focusing on Strategy, Acquisitions, Business Development, and earlier on Supply Chain and Manufacturing.
Bernard holds an MBA from INSEAD and a Master's of Engineering from Mines Paristech.
Latif Sim, Chief Information Officer, Boogle Group and Principal, Boogle Academy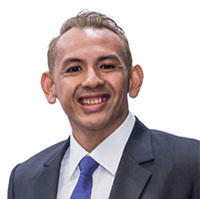 Latif Sim is a highly motivated and self-regulated individual with extensive experience in the blockchain and education sector. Latif served in the Ministry of Education for 12 years and has won numerous accolades in the innovation space. He has experiences teaching in the Integrated Programme and was one of the pioneers in delivering the Boarding curriculum in one of the top colleges in Singapore. He also taught in the Lee Kuan Yew School of Public Policy.
In the blockchain industry, Latif has spearheaded numerous projects, such as setting up digital exchanges and next-generation payment systems. He was also responsible for the implementation of cybersecurity stance of several digital exchanges.
With his public administration background and experience, Latif has assisted many startups and projects in setting up governance and structure within the team or organisation to increase efficiency and scalability.
Thu Ya Kyaw, Machine Learning Engineer, NTUC Enterprise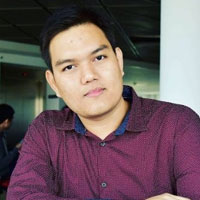 Thu Ya Kyaw is currently a Machine Learning Engineer at NTUC Enterprise. Previously, he was one of the 13 pioneers from AI Singapore's AI Apprenticeship Programme. Since Thu Ya studied Computing Science and worked as a Software Developer before his current role, he has experienced both sides of the coin - as a Software Developer as well as an AI practitioner.
With a strong passion for sharing knowledge, Thu Ya has spoken at both local and regional conferences as well as conducted technical and soft skills workshops for the tech community.
Topics: Artificial Intelligence / Deep Learning / Machine Learning / Robotics