Overview
A short-sprint course for those looking to learn text processing techniques like sentiment analysis, topic modeling, and named entity recognition. Discover the benefits of text processing, including improved efficiency, better decision-making, and customer service that you can apply in real-world situations.
Course Description & Learning Outcomes
Professional Certificate in Text Processing is delivered by NUS and co-marketed by SGInnovate. Text processing is essential for many applications that involve natural language data. It enables computers to understand and generate human language, extract valuable insights from text data, and automate various tasks that involve text analysis. This Professional Certificate will equip learners with the following competencies: - Provide theoretical foundations to Natural Language Processing (NLP) and build NLP applications using basic Machine Learning. - Provide you with the theoretical foundations to text mining, sentiment analysis and building sentiment classifiers using Machine Learning. - Equip you with the skills to mine data from the web and perform sentiment analysis on the data. - Acquire basic knowledge of deep neural networks and understand the applications of deep learning and its implementation. - Acquire basic skills on how to design and implement text classification, opinion mining systems and convolutional neural networks in Python using Tensorflow and Keras packages. - Articulate advanced deep learning models, their strengths and constraints, and their applications in different businesses. - Have basic skills in using deep learning algorithms to implement simple Natural Learning Processing (NLP) systems.
Recommended Prerequisites
At least a polytechnic diploma.
Pre-course instructions
Items to bring: You MUST have a laptop to attend this training programme Registration close date: 14/11/2023
Schedule
Date: 21 Nov 2023, Tuesday
Time: 9:00 AM - 5:30 PM (GMT +8:00) Kuala Lumpur, Singapore
Location: Online
Date: 23 Nov 2023, Thursday
Time: 9:00 AM - 5:30 PM (GMT +8:00) Kuala Lumpur, Singapore
Location: Online
Date: 24 Nov 2023, Friday
Time: 9:00 AM - 5:30 PM (GMT +8:00) Kuala Lumpur, Singapore
Location: Online
Date: 04 Dec 2023, Monday
Time: 9:00 AM - 5:30 PM (GMT +8:00) Kuala Lumpur, Singapore
Location: Online
Date: 05 Dec 2023, Tuesday
Time: 9:00 AM - 5:30 PM (GMT +8:00) Kuala Lumpur, Singapore
Location: Online
Date: 11 Dec 2023, Monday
Time: 9:00 AM - 5:30 PM (GMT +8:00) Kuala Lumpur, Singapore
Location: Online
Date: 12 Dec 2023, Tuesday
Time: 9:00 AM - 5:30 PM (GMT +8:00) Kuala Lumpur, Singapore
Location: Online
Pricing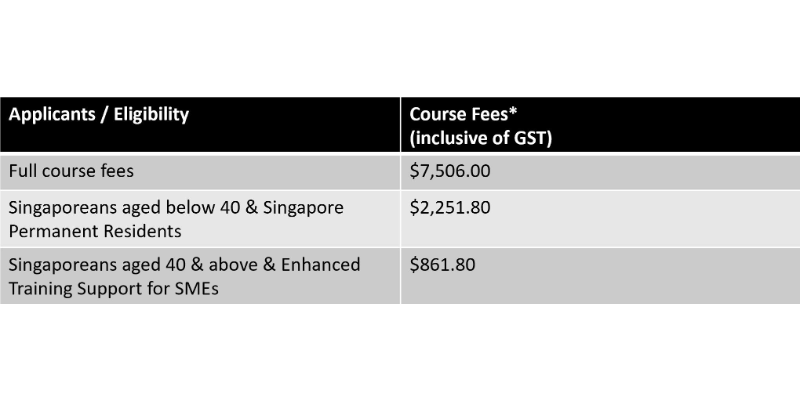 Partners