Overview
The #GetReadySG Train-and-Place Programme supports mid-career individuals motivated to make a career change into the technology sector. Our train-and-place programmes are designed for individuals without an educational background or prior work experience in the technology industry.
Course Description & Learning Outcomes
The programme covers a comprehensive curriculum of technical and non-technical skills designed in consultation with employer partners in the local technology sector. Individuals will undergo a virtual 12-week instructor-facilitated training bootcamp with hands-on projects and assignments in learning pathways that lead to industry-recognised certification from Microsoft. You'll learn relevant behavioural, mindset and technical skills through a comprehensive instructor-facilitated training bootcamp that integrates real industry scenarios with hands-on projects and case studies. After completing the programme, you will be able to undertake the following responsibilities: • Design cloud infrastructure that is secure, scalable, and highly available on cloud platforms • Work collaboratively with software engineering to define infrastructure and deployment requirements • Provision, configure and maintain cloud infrastructure defined as code • Ensure configuration and compliance with configuration management tools • Administer and troubleshoot Linux based systems • Troubleshoot problems across a wide array of services and functional areas • Build and maintain operational tools for deployment, monitoring, and analysis of cloud infrastructure and systems • Create and maintain CI/CD pipelines for code build and deployment
Recommended Prerequisites
This programme is open to Singapore Citizens, Permanent Residents, and LTVP+ holders who are above the age of 21. Eligible applicants may obtain subsidies between 70% to 100% of the course fee, subject to requirement criteria.
Pre-course instructions
• Register for an account on our Generation Singapore Application Platform. • Applicants are required to take a cognitive test and complete a technical skills assessment related to the programme they are applying for. • Upon review of the completed test and skills task, a Generation Singapore team member may invite the applicant to a virtual interview to better understand them and their career aspirations. • Outcome of application will be notified within 8 to 10 working days of application completion. If an applicant is shortlisted for the programme, they will be given instructions to confirm their place in the upcoming cohort.
Schedule
Date: 03 Jun 2024, Monday
Time: 12:00 AM - 1:56 PM (GMT +8:00) Kuala Lumpur, Singapore
Location: Temasek Polytechnic, 21 Tampines Ave 1, Singapore, 529757 and Online
Pricing
Course fees: S$ 15,000 (before subsidies and GST) Subsidies of up to 95% are available, subject to eligibility assessment
Speakers
Trainer's Profile:
Jimmy Leong, Instructor, Generation Singapore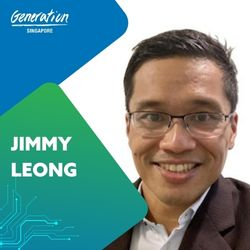 Jimmy has had extensive training and facilitating experience in his capacity his various appointments from the private sector to the public sector. He has been instrumental in leading the learning and development through classroom based environment to self-directed learning. His ability to engage both with the subject matter specialist to match learner's profile was critical in his various appointments. With 24 years amassed in his professional career, Jimmy has been in employed in leadership positions and involved transformative function in the capacity of training development. Jimmy graduated from the University of London in 2021 with PGDE in Educational Leadership and University of Otago in 2004 with a Bachelor of Information Science. He is a EC Council Master Trainer for Ethical Hacker and Cyber Security Courses and more recently appointed Associate Lecturer for Murdoch's Cybersecurity Program. Jimmy is an ACTA Certified trainer and Curriculum Developer.