Overview
This 8-day course will focus on Environmental, Social, and Governance (ESG) in green technology to equip professionals in the green sector, particularly in food retail, food supply, urban farming and food innovation sector.
Course Description & Learning Outcomes
At the end of the course, you will be able to: • Broaden and deepen your understanding of key corporate sustainability concepts, standards, guidelines and frameworks that can assist you in driving and implementing profitable sustainability strategies. • Develop the means to indicate how sustainability issues are impacting your immediate social, economic, and political environment. • Learn the ethical principles of sustainability and how they are connected to practical issues of social justice, and environmental-economic equity. • Develop the proficiency in finding and using reliable data and documentation for support of your sustainability projects. • Acquire in-demand sustainability skills and strategies for managing climate risk, facilitating ESG integration, and creating long-term value for shareholders and society. • Acquire skills to write your sustainability reports and calculate your organisation's carbon footprint. • Enable mid-career individuals, including those in employment, to make career switches. • Empower individuals through relevant skills training with employment facilitation to help you access new or enhanced job opportunities.
Recommended Prerequisites
This programme is for you if you are: • Head of Departments • Agri Tech Specialist, Agri Tech Operator, Food Scientist, Food Technologist, Chemists, Biochemists, Technical Specialist, Farm Technician, Engineers, Educators and other technical personnel working in the field of food science and technology • Operations Manager/Strategic Program Manager (PMO), Sustainability Manager, Supervisors, Product Development Manager • Professionals who are interested in broadening their understanding of climate change issues and corporate sustainability in relation to the Food Industry • Hospitality – Food and Beverage (F&B) Services, Food Retail, F&B Outlets and Restaurants, Centralised Kitchen Operators, Food Solutions Provider, Airline and Food Caterers, Companies in the Food Production, Processing, Supply and Distribution Sectors
Pre-course instructions
Registration close date: 31/08/23
Schedule
Date: 23 Sep 2023, Saturday
Time: 9:00 AM - 5:00 PM (GMT +8:00) Kuala Lumpur, Singapore
Location: NTU@one-north, 11 Slim Barracks Rise, 138664
Date: 27 Sep 2023, Wednesday
Time: 9:00 AM - 5:00 PM (GMT +8:00) Kuala Lumpur, Singapore
Location: NTU@one-north, 11 Slim Barracks Rise, 138664
Date: 30 Sep 2023, Saturday
Time: 9:00 AM - 5:00 PM (GMT +8:00) Kuala Lumpur, Singapore
Location: NTU@one-north, 11 Slim Barracks Rise, 138664
Date: 07 Oct 2023, Saturday
Time: 9:00 AM - 5:00 PM (GMT +8:00) Kuala Lumpur, Singapore
Location: NTU@one-north, 11 Slim Barracks Rise, 138664
Date: 11 Oct 2023, Wednesday
Time: 9:00 AM - 5:00 PM (GMT +8:00) Kuala Lumpur, Singapore
Location: NTU@one-north, 11 Slim Barracks Rise, 138664
Date: 14 Oct 2023, Saturday
Time: 9:00 AM - 5:00 PM (GMT +8:00) Kuala Lumpur, Singapore
Location: NTU@one-north, 11 Slim Barracks Rise, 138664
Date: 18 Oct 2023, Wednesday
Time: 9:00 AM - 5:00 PM (GMT +8:00) Kuala Lumpur, Singapore
Location: NTU@one-north, 11 Slim Barracks Rise, 138664
Date: 19 Oct 2023, Thursday
Time: 9:00 AM - 5:00 PM (GMT +8:00) Kuala Lumpur, Singapore
Location: NTU@one-north, 11 Slim Barracks Rise, 138664
Pricing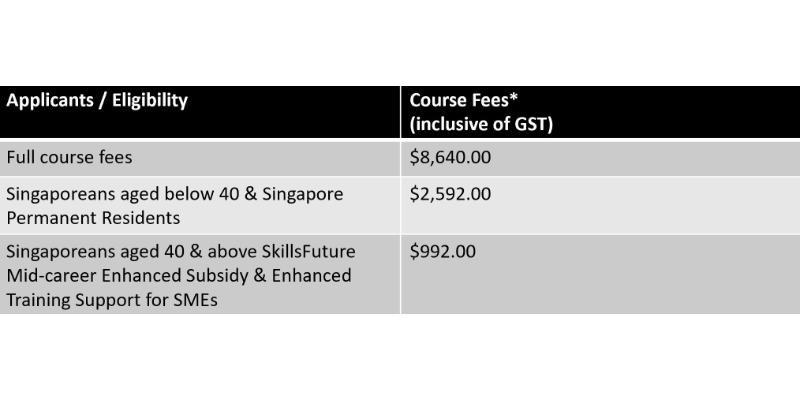 Partners