Why Deep Tech matters for the Future of Food
Thursday, October 29, 2020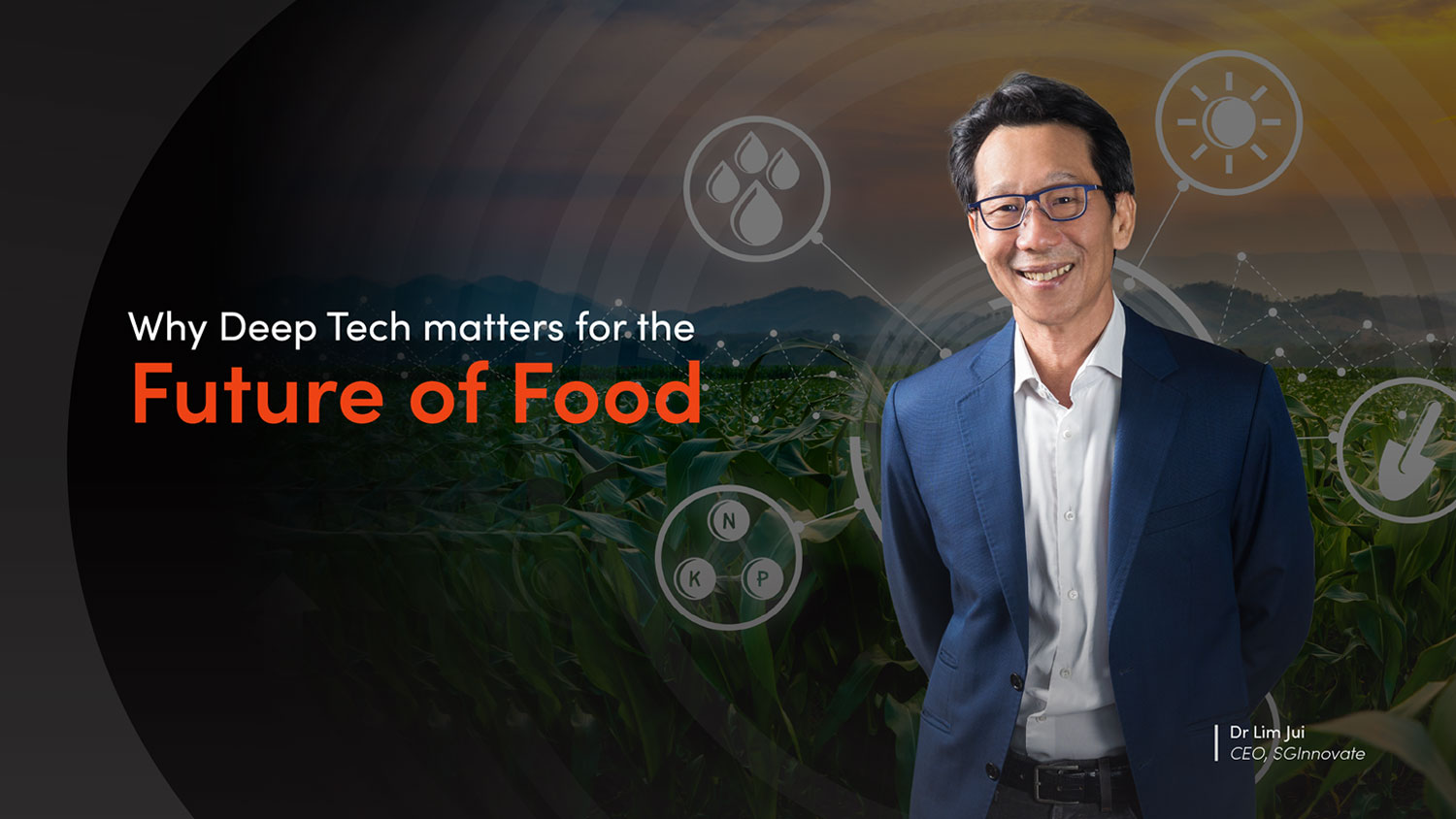 Topics: Investments, SGInnovate Insights, Startup and Corporate Open Innovation, Sustainability
Industry: AgriFood
Food is a topic that is close to the hearts of many living in Singapore. Our conversations often surround the food culture – our favourite dishes, the hawker stalls offering the best renditions, the newest eateries in town and culinary trends. But globally, the food system is facing major challenges that need to be addressed urgently.
According to the Food and Agriculture Organisation of the United Nations, over 2 billion people around the world do not have regular access to safe and nutritious food in sufficient quantities. At the same time, 1.6 billion tons of food worth about US$1.2 trillion go to waste annually — that is about one-third of the total amount of food produced globally.
With the world population projected to grow by another 2 billion in the next 30 years, the demand for food is expected to grow exponentially. The ongoing COVID-19 pandemic has further exacerbated the issue of food safety and security. With borders closed, we have witnessed two extremes in a heavily disrupted global food supply chain. On one hand, there is a never-before-seen level of food wastage where harvested produce are stuck in warehouses and farms; and on the other, there is hindered access to imported food supplies for many countries. New figures from the World Food Programme indicated that COVID-19 would result in nearly 265 million people suffering from acute hunger by the end of 2020 — nearly doubling earlier projections.
Here in Singapore, the Government had mitigated the impact of the pandemic on our national food supply with comprehensive strategies put in place in the years prior, by diversifying food imports, encouraging firms to grow their food overseas, and expanding the local produce industry. But with over 90% of our food supply being imported currently, we remain vulnerable to global agricultural landscape changes and supply chain disruptions, especially in the face of another black swan event like a global pandemic.
As we celebrated World Food Day earlier this month, it is timely for us to take stock of the "invisible problems" in the global food system and look into how Deep Tech-driven solutions can help create a more sustainable world.
Deep Tech and the food ecosystem
The global food ecosystem is highly complex while food issues are multi-faceted — ranging from food supply and security, nutrition and health, to environmental impact.
This issue does not merely lie with producing sufficient food. We also need to look at how we process, distribute and consume food, all the way from pre-production to post-harvest, and take an integrated approach that covers all these areas and more.
Despite having only a small agriculture industry locally, Singapore is still very much involved in driving the future of food. By leveraging our strengths in R&D and Deep Tech, we are building and investing in AgriFood innovations that have the potential to solve global challenges related to food security and resiliency.
In support of the "30 by 30" goal last year — where we aim to produce 30% of Singapore's nutritional needs locally by 2030 — a sizeable S$144 million of research funding had been sunk into the Singapore Food Story R&D Programme. Led by the Singapore Food Agency (SFA) and Agency for Science, Technology and Research (A*STAR), the programme is a concerted push towards the development of innovative technologies in three focus areas: Sustainable Urban Food Production, Future Foods, and Food Safety Science and Innovation.
And I'm happy to see that the strong support from the public sector has encouraged a wave of new players in the Singapore AgriFood Tech ecosystem recently, with more startups, incubators and accelerators as well as investors coming into this space, alongside various platforms supported by corporate partners.
Increasingly, high-tech and urban farming are starting to take flight locally. There is now a better understanding of how Artificial Intelligence (AI), big data, smart sensors and drones can help to improve farming processes, crop yield and nutritional quality.
Local startups are also creating new forms of edible products using biotech-based alternative proteins technologies, such as the cell-based shrimp by Shiok Meats, 'clean' milk from TurtleTree Labs and plant proteins from Life3 Biotech. On the logistics front, our portfolio company, DiMuto is digitising the food supply chain, leveraging the blockchain technology and AI to create greater transparency and traceability, with the goal of reducing food wastage and ensuring food safety and quality.
More people are starting to pay attention to AgriFood projects and their technologies and wide-ranging applications that can transform the food system.
Working together to make an impact
At SGInnovate, we have identified AgriFood Tech as one of our focus areas, and we want to do more in unearthing and supporting startups as they develop their innovations in this field.
To facilitate knowledge-sharing in this space, we worked with the UNDP Global Centre for Technology, Innovation and Sustainable Development to co-create "The Digital Feed" podcast to discuss developments and trends across various stages of food value chains in the search for sustainable food solutions. We have also hosted a myriad of AgriFood-focused virtual community events with like-minded partners from all over the world, to ensure that we keep the conversations going, even during this time of safe-distancing.
'Grow, Nourish, Sustain. Together.' This is the theme of World Food Day this year and indeed, tackling the food challenge is a massive undertaking that calls for our collaborative efforts, from governments, businesses, academia and NGOs, right down to individual consumers' everyday choices. As a catalyst within the Deep Tech ecosystem, it is SGInnovate's intention to contribute towards this global mission.
We hope to support the commercialisation of more AgriFood innovations that have the potential to change the world.

Topics: Investments, SGInnovate Insights, Startup and Corporate Open Innovation, Sustainability
Industry: AgriFood


Share this with your network!
You may also like the following: