Back to all blogs
SunGreenH2: Making green hydrogen scalable and accessible
How can we continue to power the world's industries while taking steps to meet our ambitious climate targets? One startup is combining cutting-edge research in electrochemistry and nanotechnology to provide a possible solution through high-efficiency, low-cost green hydrogen production.
---
The race to ensure we reach net-zero emissions by 2050 is speeding up. As companies and governments across the globe search for a commercially viable yet sustainable solution to meet the world's future energy demands, hydrogen has emerged as a promising answer for the long term, due to its combustion properties.
Today, manufactured hydrogen is a US$150 billion industry. Analysis by PwC estimates that hydrogen demand will grow at a moderate pace through 2030, after which it is expected to accelerate even further. However, hydrogen production is currently also a major contributor to CO2 emissions, owing to its associated energy-intensive production processes, which are still heavily reliant on fossil fuels.
One company that is hoping to help to make the shift to hydrogen more sustainable is SunGreenH2, a clean energy startup based in Singapore.
Since launching in 2020, SunGreenH2 has been using advanced nanotechnology to help companies in hard-to-abate industrial sectors such as chemicals, cement and steel produce low-cost green hydrogen as a feedstock or fuel.
Now, as demand for its solution increases, the company is exploring collaboration opportunities with major players in the green hydrogen market and launching new pilot projects in Singapore, the EU, North America, Japan and India.
This strong interest is not surprising when you consider that the growth of the global electrolyser market is exponential – by 2030, it's expected to be 500 times larger than it was just a few years ago.
Co-founder and chief executive officer Tulika Raj thinks the reason for the growing interest in SunGreenH2's offering is simple. "I believe we answer a rising need for industrial partners seeking a sustainable alternative to carbon-emitting hydrogen production from natural gas," she says. "Our vision is to accelerate the journey towards net-zero emissions by making affordable green hydrogen production from electrolysis a reality, and unlocking a zero-carbon energy source globally, at scale, and at low cost."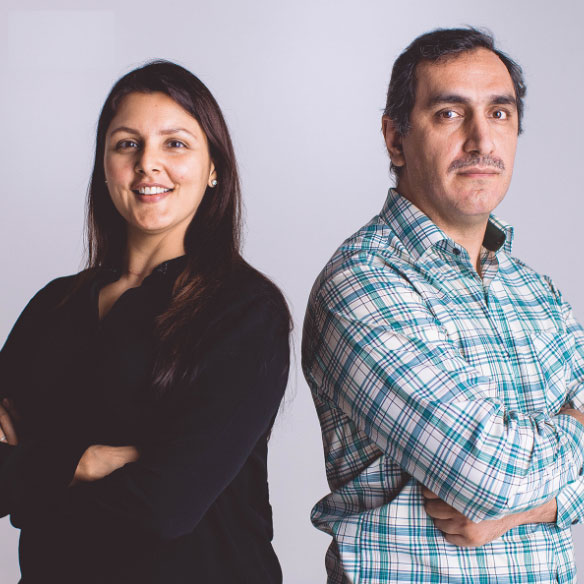 SunGreenH2's founders (left to right) Ms Tulika Raj and Dr Saeid Masudi Panah.
Unlocking affordable green hydrogen production
SunGreenH2's journey began in 2020, when experienced commercial leader Ms Raj met award-winning scientist Dr Saeid Masudy Panah in Singapore. Together, the pair founded the company and worked to develop what would become its core technology.
Their focus is the electrolysers used in the green hydrogen production process. A carbon-free alternative to fossil-fuel manufactured hydrogen, green hydrogen uses clean energy sources like wind and solar to create the electricity needed to split water molecules into hydrogen and oxygen through electrolysis.
However, a major challenge for green hydrogen producers is that most electrolyser systems are either inefficient, or rely heavily on the use of precious metals such as iridium and platinum which are loaded into catalytic electrodes, a key system component.
"Inefficiency leads to high operating cost of the electrolysers. On the other hand, PGMs (platinum group metals) are not only costly, but often limited in supply. As a result, green hydrogen is currently about five times more expensive to produce than fossil-fuel based hydrogen," says Ms Raj. "At SunGreenH2, we wanted to change all that."
Pioneering breakthrough advancements in electrode technology
Drawing on Dr Saeid's years of cutting-edge research in electrochemistry and nanotechnology, SunGreenH2 developed an innovative approach to electrochemical water splitting based on efficient, low-cost electrodes that drastically increase output while lowering precious metal loadings and energy use. The technology is applicable to almost all commercially available electrolysers in the market today.
"Alkaline and PEM electrolysers powered by our hyper-efficient proprietary electrodes can double the amount of green hydrogen they produce from a given electrolyser cell size while using 10 per cent less energy, compared to systems built with commercial electrodes," says Ms Raj.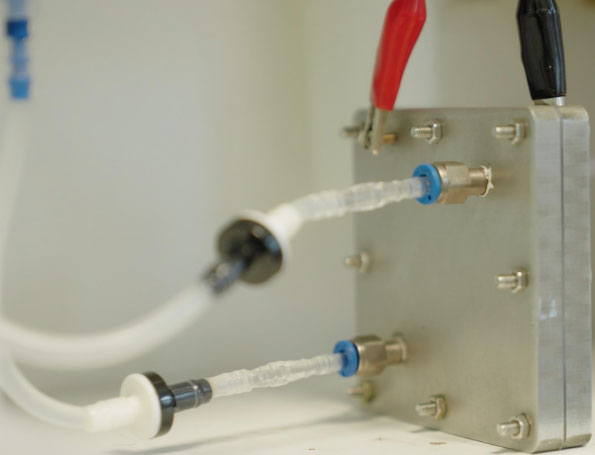 A SunGreenH2 AEM electrolyser cell in action.
"Our breakthrough technology also reduces PGM catalyst loading in PEM electrolysers by 30 times, while halving stack size. What this adds up to is the world's highest performance nanostructured materials for low-cost electrolysis at scale. We're unlocking affordable green hydrogen production, something we believe will revolutionise the race to net-zero emissions."
Accelerating product commercialisation
Global investors agree. The company initially raised US$250,000 in pre-seed funding in 2020 after being selected to showcase its technology at an event organised by international startup talent investors Entrepreneur First. They also won support from HAX, a hardware startup accelerator owned by leading US-based early-stage climatetech investor SOSV.
"We showcased our proprietary component technology as well as the prototype of the electrolyser that we're building," says Ms Raj. "Both were created during the pandemic. Remote-collaborating, testing and troubleshooting a hardware solution with team members spread out across the globe was definitely challenging, but it didn't hold us back. We're all super motivated to create a decarbonised future for the next generation."
As the only company is Southeast Asia that is commercialising electrolyser technology, SunGreenH2 is already garnering considerable commercial interest.
"We're currently exploring collaboration opportunities with major electrolyser manufacturers in Europe and North America, and have also won commercial collaboration opportunities with Molymet and Mitsubishi Heavy Industries. We're in the process of signing MOUs to launch pilot projects with leading companies in the EU, North America, Japan and India, as well as here in Singapore," confirms Ms Raj.
"This strong interest is not surprising when you consider that the growth of the global electrolyser market is exponential – by 2030, it's expected to be 500 times larger than it was just a few years ago."
Powering a greener future
As SunGreenH2 continues to commercialise the scale of its component technology and develop its prototype electrolyser, it is also constantly refining its approach. For example, it is exploring the potential to carry out water electrolysis using seawater, as opposed to purified water. "Developing technologies for producing green hydrogen based on seawater or impure water sources could be a game-changer," explains Ms Raj. "In future, the company can further harness its proprietary platform technology for other green transition materials used in fuel cells, batteries and solar-hydrogen panels."
With the support of Deep Tech investor SGInnovate and other agencies, the Singapore Government is also working to help the company develop its commercial potential. For example, SunGreenH2's prototype electrolyser system is currently under demonstration at A*STAR's Institute of Materials Research and Engineering in Singapore.
Looking ahead, Ms Raj believes SunGreenH2 will continue to strengthen its standing in the international market and take the leap to the next level of success.
In her words, "We're very excited about our company's potential to unlock affordable green hydrogen for wider adoption in industry, transport, energy storage and more. It means we can play our part in curbing the depletion of global natural resources while helping set standards for a sustainable and scalable net-zero emissions future."
Discover more about the innovative startups that SGInnovate supports here.