The Power of Exponential Thinking
Wednesday, May 09, 2018
To thrive in the Fourth Industrial Revolution, individuals, companies and societies can no longer afford to think about the future in linear terms, says Mr Charlie Ang, ambassador for Singularity University's Singapore Chapter and Founder of Everything40.com.
---
In his 2005 bestseller The Singularity Is Near, futurist Ray Kurzweil described how multiple fields of technology—including computing, artificial intelligence and biotechnology—will continue to advance at an exponential pace. To avoid being blindsided by the immense technological, social and economic changes that will ensue, humans must follow suit, putting aside our tendency to think linearly and learning to think exponentially instead, wrote Kurzweil.
Teaching exponential thinking—the practice of forecasting and planning for an exponential future—is indeed the mission of Singularity University (SU), the Silicon Valley-headquartered professional development institute and incubator founded by Kurzweil and fellow futurist Peter Diamandis in 2008. With an active alumni network spanning some 110 countries, SU's message now has a wide international reach—including in Singapore.
Mr Charlie Ang, ambassador for SU's Singapore Chapter says,
We want to bring exponential thinking to people in Singapore, because it is so important for us to understand the accelerating speed and scale of change and to be prepared for the Fourth Industrial Revolution.
"I spend a lot of my time thinking, imagining and explaining the future, especially how technology will disrupt, transform and empower businesses, industries and by extension, entire economies," he explains.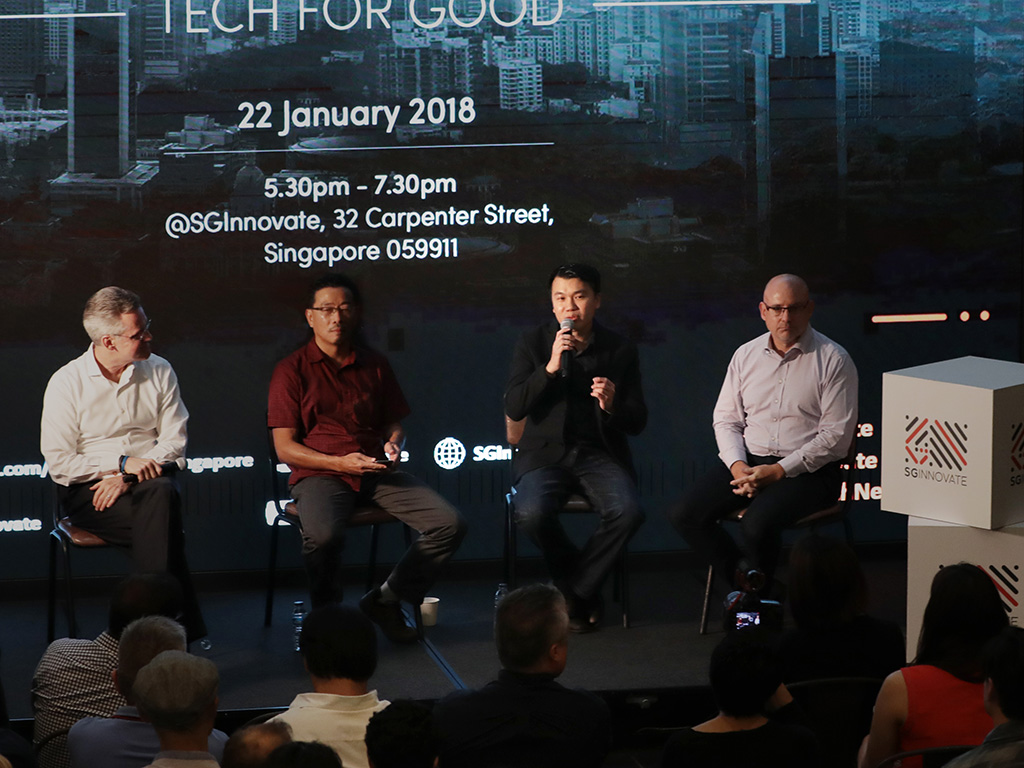 Mr Ang speaking at SGInnovate's inaugural session of the Change the World series earlier this year
A singular mission
Mr Ang has been concerned about the consequences of disruptive technological change since well before artificial intelligence and automation became hot-button issues, he says. SU's philosophy, therefore, instantly struck a chord with him. "I was a convert looking for a religion," he says with a laugh.
After "making the pilgrimage" to attend SU's executive programme in Silicon Valley, Mr Ang now leads the charge for promoting exponential thinking at home. SU's Singapore Chapter not only serves as a platform for alumni to network and exchange ideas; it also runs activities aimed at bringing exponential thinking to Singapore's wider community, says Mr Ang.
In 2017, for example, the Chapter organised a healthcare-focused Global Impact Challenge, where entrepreneurs and researchers were invited to submit ideas for the use of medical devices, diagnostics or digital technologies to improve healthcare in Asia. The winning pitch involved the use of an artificial intelligence-based platform to bring about subtle changes in behaviour, targeted at reducing the user's risk of diabetes.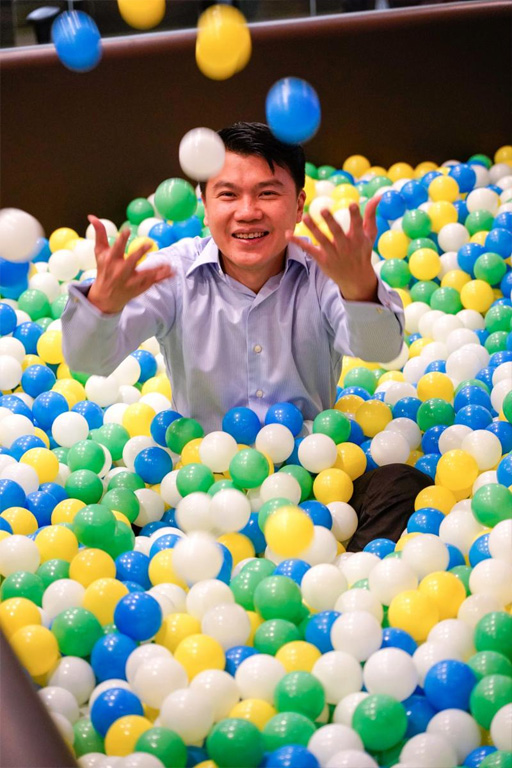 SU's philosophy struck a chord with Mr Ang and inspired him to attend SU's executive programme in Silicon Valley
Although Singapore pumps plenty of resources into research and development, more needs to be done to commercialise the resulting knowledge and apply it to real-world problems that may lie beyond Singapore's geographical borders, says Mr Ang. "SU's mission of positively impacting a billion lives using exponential technologies is very much in sync with SGInnovate's idea of how we should think big and try to solve the world's problems, not just Singapore's problems, using deep science and technology."
Preparing for a new paradigm
In 2013, Mr Ang started Everything40.com, a future-readiness agency that helps organisations and leaders prepare for the disruptive future. He believes most industries will change more in the next 10 years than in last 50, or even 100. Hence, they must increase their future-readiness and transform – today.
"If a company thinks its industry will not be disrupted, it's because of the company's lack of imagination," says Mr Ang. "I help companies imagine and analyse disruptive technologies, trends or threats that could put them out of business, and design an innovation strategy to turn these threats into exciting opportunities. While we are still grappling with Digital Disruption, five other equally big disruptions are hot on its heels, namely, Cognitive Disruption, Virtual Disruption, Trust Disruption, Mobility Disruption and Energy Disruption,"
Central to Mr Ang's approach is a concept he calls 'Everything 4.0'—the idea that the Fourth Industrial Revolution's new wave of intelligent, automated and immersive digital technologies will completely reshape the existing '3.0' paradigm, upon which most industries and economies are based. "If companies want to drive the future of their industry, they need to innovate today; otherwise they will be out of the game when disruption comes," says Mr Ang.
Few companies, however, can afford to upend their entire business models at the drop of a hat. Mr Ang thus recommends an 'ambidextrous' approach. Companies should continue to optimize their existing business, whilst innovating new business models that could disrupt their industry, he says.
On one hand, companies need to exploit the now, and they should continue to incrementally improve whatever business they are in. On the other hand, companies today underinvest in exploring the new, a process that requires experimentation, innovation and boldness.
Fostering Singapore 4.0
While Mr Ang serves corporate clients across Asia, he is most actively engaged in transformation efforts in Singapore. The country, he thinks, has many of the right ingredients—a vibrant startup scene, a strong innovation ecosystem and excellent government support, to name a few—needed to thrive in the Fourth Industrial Revolution.
What is generally lacking, however, is what Mr Ang calls a '4.0 mindset' amongst its leaders and people. Singapore is still taking a linear, business-as-usual approach towards planning for the future, he thinks. "The same technological forces that disrupt business will similarly impact economies, governments and countries. I'm concerned that if we don't have a strong, cohesive national strategy around how we reinvent 4.0, we may just end up doing 3.0 better, and eventually we'll miss the boat."
Still, Mr Ang is optimistic. With its small size, skilled workforce and relatively well-trusted institutions, Singapore has great potential to become a truly innovative, model 4.0 society, he thinks. Through his work with SU and Everything40.com, he hopes to contribute to this critical transformation.
Mr Charlie Ang was a panelist at at SGInnovate's inaugural session of the Change the World series. Subscribe to our newsletter here to never miss out on any news and happenings!
Sim Shuzhen
Topics: Startup and Corporate Open Innovation, Others


Share this with your network!