SGInnovate, Entrepreneur First and the Singapore-MIT Alliance for Research and Technology Innovation Centre are working together to find and nurture Singapore's next generation of entrepreneurs.
What makes a great innovation hub tick? Although there is no exact recipe, some criteria are essential: excellent research and development capabilities, world-class talent and top-notch technical infrastructure, for example. But while Singapore has all three in abundance, the city-state is still not quite Silicon Valley.
SGInnovate is hoping to find the necessary ingredients for a runaway success, in collaboration with company builder Entrepreneur First (EF) and the Singapore-MIT Alliance for Research and Technology (SMART) Innovation Centre. Both organisations are housed on SGInnovate's premises, and have launched innovative programmes to help scientists and engineers take their research to market.
At a networking event on 31 May 2017, SGInnovate played host to Singapore Deputy Prime Minister and National Research Foundation Chairman Mr Teo Chee Hean, who mingled with entrepreneurs and researchers from the EF and SMART programmes to learn more about their experiences of starting businesses built around deep technologies.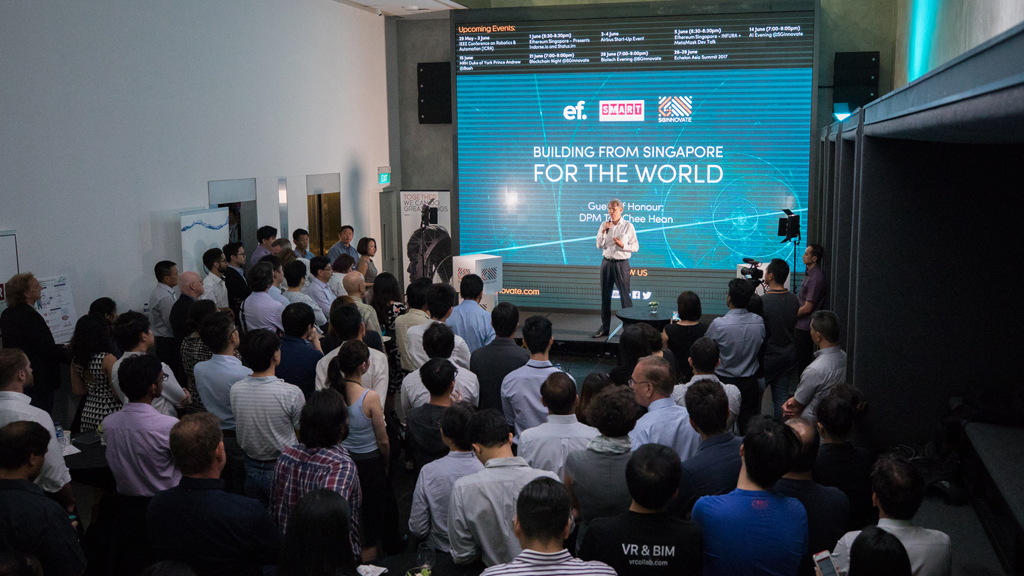 Deputy Prime Minister Teo Chee Hean at the networking event hosted at SGInnovate
The power of the individual
EF's pre-seed investment programme accepts individuals based on their domain expertise and technical abilities, even before they settle on an idea or form a team, said EF Singapore director Ms Anne Marie Droste. EF Singapore is the accelerator's first branch outside the UK, and was established in 2016 in partnership with SGInnovate.
We believe that the key to unlocking Singapore's true starting potential is making sure that these amazing individuals actually end up starting companies," said Ms Droste at the networking event.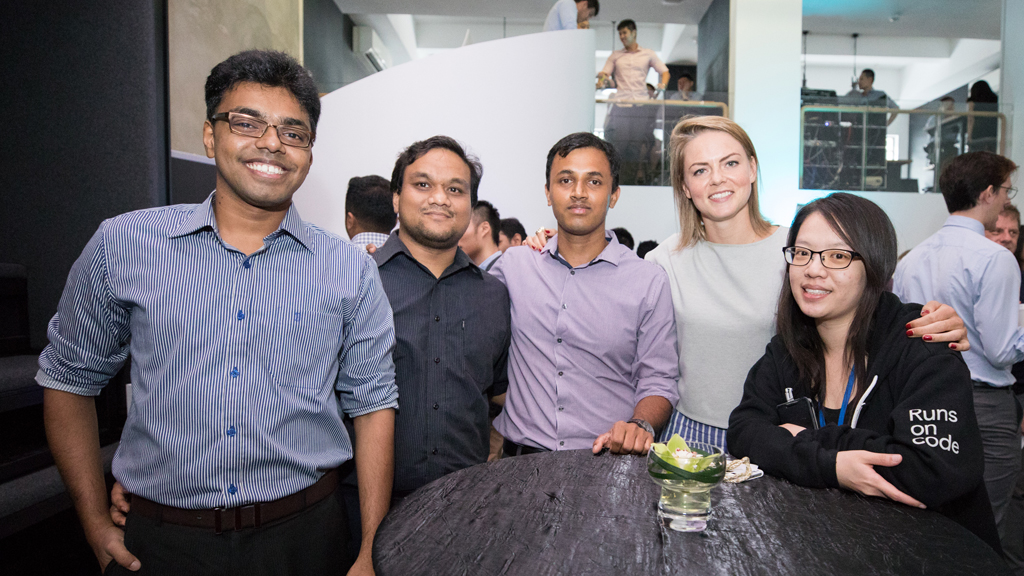 EF Singapore Director, Anne Marie Droste with some of the individuals from the EF Singapore first cohort
Twelve startups—built around a diverse set of technologies ranging from satellite communications to computer vision—have arisen out of EF Singapore's first cohort of 53 individuals.

One of these is Lemnis Technologies, co-founded by Dr Pierre-Yves Laffont and Dr Ali Hasnain, who met through EF. Lemnis is developing core technology that will allow virtual reality (VR) headsets to be used for long periods without visual fatigue and nausea.



Leaving academia to build a startup can be a daunting decision, especially for first-time founders. EF allows aspiring founders to take a controlled risk by providing a clear framework that has been tested and refined through seven cohorts in the UK and one in Singapore," said Dr Laffont, a computer vision expert who is now Lemnis' CEO.
Lemnis Technologies - CEO Pierre-Yves Laffont, and Co-founder Ali Hasnain
By making VR more usable, Lemnis aims to turn the technology into a viable computing platform that can be used beyond gaming and entertainment, explained Dr Laffont.
We are an enabler for many VR businesses, rather than a competitor," he said.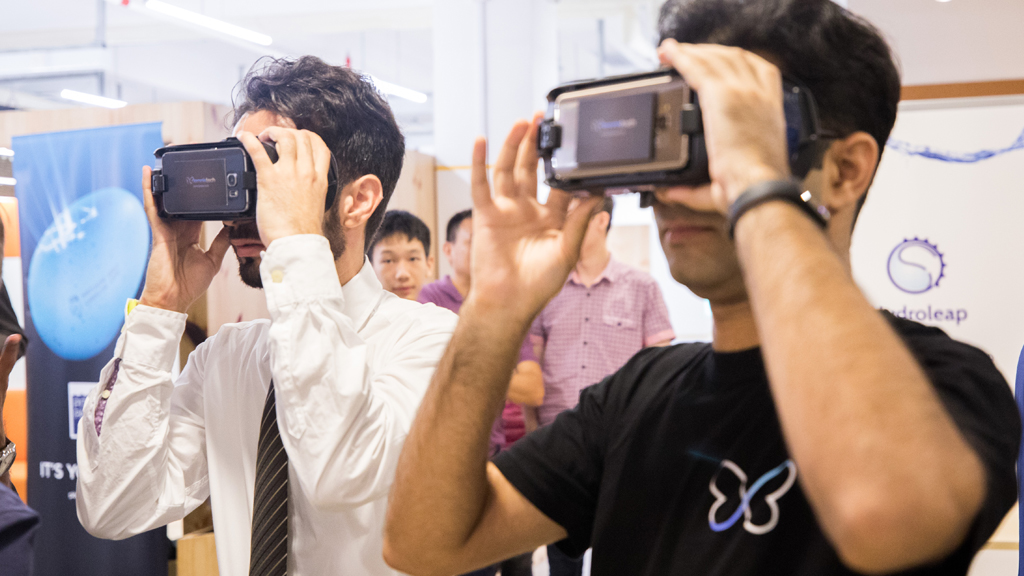 VR headsets developed by Lemnis Technologies being tried out
Another pair of entrepreneurs who met through EF are Dr Vishram Mishra and Dr Magzhan Ikram, co-founders of µSec. Their company is building the world's first enterprise-grade security protocol for Internet of Things and sensor networks, on which computing power is typically constrained due to their low power and bandwidth.
We learned a lot that has changed our mindsets, including that the market can be more important than the technology itself.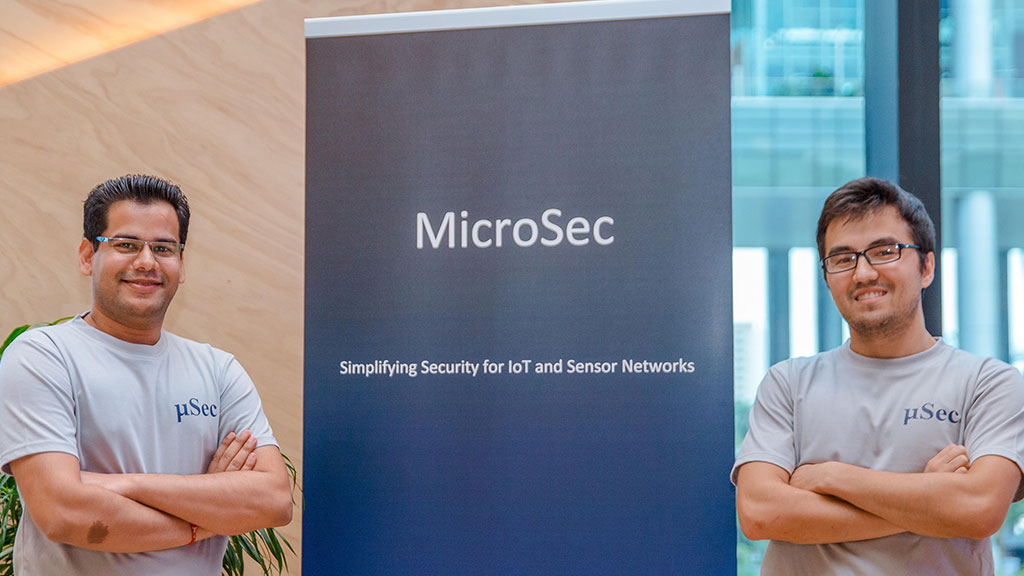 MicroSec - Co-founder and CEO, Dr. Vishram Mishra and Co-founder Magzhan Ikram
"We want to build things that matter to society, and EF helped us get off the ground by giving us business and sales training," said Dr Mishra, who has a background in cryptography and wireless communication.
µSec plans to market its technology to both the public and private sectors, for use in areas such as smart city applications, said Mr Mishra. In the long term, the company also aims to expand its solutions to cover vehicular and satellite communications, he added.
Getting SMART about innovation
Also helping to bridge the gap between laboratory and market is the SMART Innovation Centre, which moved to SGInnovate's premise at 32 Carpenter Street in November 2016. Through grant programmes, boot camps and networking events, the Centre helps academic researchers identify, harvest and monetise their discoveries in deep science and technology, director Mr Howard Califano told the audience.
Scientist-entrepreneurs are critical for a successful innovation ecosystem," he said. "They understand the deep science, but also have the passion and drive to take their technology through to impact. Without them, it's very difficult for the ecosystem to harvest technologies well.
The SMART Innovation Centre has launched 22 companies since it was set up in 2009, said Mr Califano. One of these, water analytics company Visenti, was acquired by global water technology leader Xylem in November 2016.

Being under the same roof will help SGInnovate and SMART work together even more closely. "Through our grant programme, we're able to harvest very interesting projects that we will be maturing and providing to SGInnovate, where they can be further developed into companies," said Mr Califano.
To address a gap in the startup ecosystem—the need to build dynamic management teams around scientist-entrepreneurs that can help drive their companies to bigger impact—the two organisations have also jointly launched a programme aimed at identifying leaders who can serve as CEOs of these fledgling companies, said Mr Califano.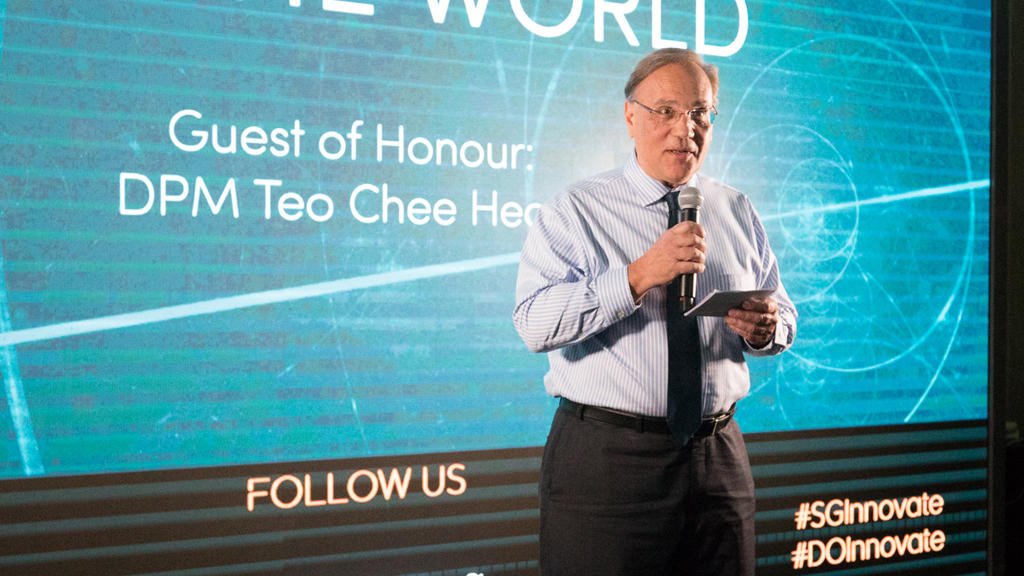 Mr Howard Califano, Director, SMART (Singapore-MIT Alliance for Research & Technology)
Creating the right conditions
Three key factors have contributed to Singapore's success: maintaining strong connections to the region and to the world; investing in knowledge and R&D; and becoming known as a trustworthy partner, DPM Teo told the audience.
We created conditions here such that people could come and succeed, and build from Singapore for the region and for the world," he said, adding that Singapore would continue its efforts to nurture a vibrant innovation and enterprise ecosystem.
This is good news for future entrepreneurs—including EF's second Singapore cohort, who will begin their entrepreneurship journey later in 2017. "I'm looking forward to finding and supporting this next generation of global entrepreneurial talent from Singapore," said Ms Droste.
Wishing all the founders well, DPM Teo also advised them to be willing to take failure in their stride. "We are here trying to build an experiment—we may fail, but in the end we will all be part of that story," he concluded.
Sim Shuzhen
Topics: Startups, Others


Share this with your network!