Blockchain and Energy - Power, Not Magic
Wednesday, October 31, 2018
Blockchain-based platforms could slash energy costs and accelerate the adoption of renewable energy; yet the nascent technology isn't an instant formula for success.
---
When you receive your power bill every month, did you know that you might be paying for more than what you've actually consumed? To manage credit risk from defaulters, energy retailers sometimes pass the costs of unpaid bills on to other customers, pushing energy bills up.
But if energy settlements were carried out on the blockchain, this wouldn't be a problem—smart contracts would allow for 'micro-billing' on a much more frequent basis, said Mr Martin Lim, co-founder and COO of retail electricity marketplace Electrify Asia.
"If you could do settlement on a daily basis, that's staggering because it reduces default risk, and that means you've got potentially cheaper energy… you can pay for energy as you use it," explained Mr Lim at 'Blockchain in Energy: A Dream or Reality?', a panel discussion organised by SGInnovate and energy sector open innovation platform EnRupt.
Along with micro-settlements, blockchain enables numerous other applications that could transform the energy sector, including peer-to-peer energy trading and infrastructure management for renewable energy, said the panel. "[Blockchain] allows us to decrease the cost of transactions, increase the speed of deployment and do transactions that would normally not be possible," said EnRupt founder Ms Katarina Hasbani, who moderated the discussion.

Powering new platforms
Using blockchain-based smart contracts, Electrify Asia has drastically cut the costs and hassle involved in settling retail electricity contracts. The company is now rolling out a scalable peer-to-peer energy trading marketplace, which uses a contract-for-difference mechanism and an algorithm to pair producers and consumers, Mr Lim explained.
"The proliferation of distributed energy resources is going to over time change the energy landscape, so the elephant in the room is what we are going to do in that kind of space," said Mr Lim, of the decision to move into energy trading.
Another way blockchain can impact the energy sector is by facilitating the financing of innovative energy sector projects, said Mr Nicolas Payen, co-founder and CEO of Positive Energy Ltd. The company uses a blockchain-based platform to digitise and simplify due diligence processes, reducing the high transaction costs associated with financing small and mid-sized renewable energy projects.
"We do this because we believe there is a big market opportunity, but also because we think we can help society. First, [we want to] accelerate the adoption of renewable energy and reduce carbon emissions; second, we would like to help local investors be part of this business opportunity," said Mr Payen.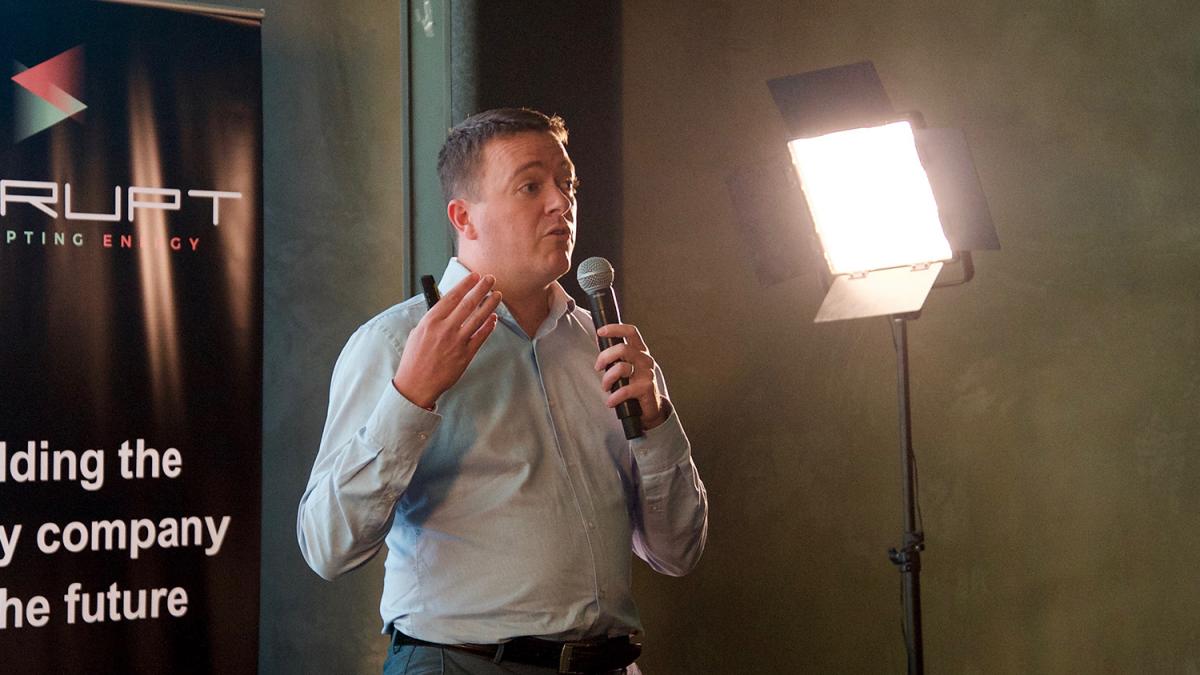 Mr Nicolas Payen sharing how blockchain can impact the energy sector
Like the energy sector, the shipping and logistics industry also involves complex transactions between multiple actors such as vessels, port authorities, cargo owners and financial institutions, and hence stands to benefit immensely from blockchain, shared Ms Pernille Dahlgaard, director at Accenture Singapore, who specialises in freight, logistics and supply chain management.
"Blockchain comes in as a fantastic, promising technology where you have a lot of partners but you don't have connections or trust," she said. The technology could be used to improve operational efficiency, freeing up personnel from tedious tasks, as well as to increase supply chain transparency, helping to clamp down on counterfeit goods, she added.

Technology, not magic
Blockchain proponents, however, should steer clear of the hype currently surrounding the technology, said the panel. "We have to be very aware that blockchain isn't a magic condiment. It's not something we sprinkle onto stuff and—bam—things get better... the technology is still very nascent and in the early stages of development, and we're beginning to find out where the walls are," said Mr Lim.
For example, because of compliance issues, clients like financial institutions tend to be more conservative when it comes to adopting blockchain-based platforms, said Mr Payen; his philosophy has been to stay customer-focused and work within these limitations. "We made rational choices in order to leverage the technology in the best possible way while fitting with our customers' way of thinking. How much can we push the edge to be innovative and create value that has not been created so far, but not be [too far] off the field?"
The lack of scalability and speed in some blockchain technologies is also an issue, especially for shipping industry applications that require the tracking of vast numbers of containers. "I think we need to recognise that new technology takes a long time to mature," Ms Dahlgaard added, likening the current state of blockchain to the early days of the internet.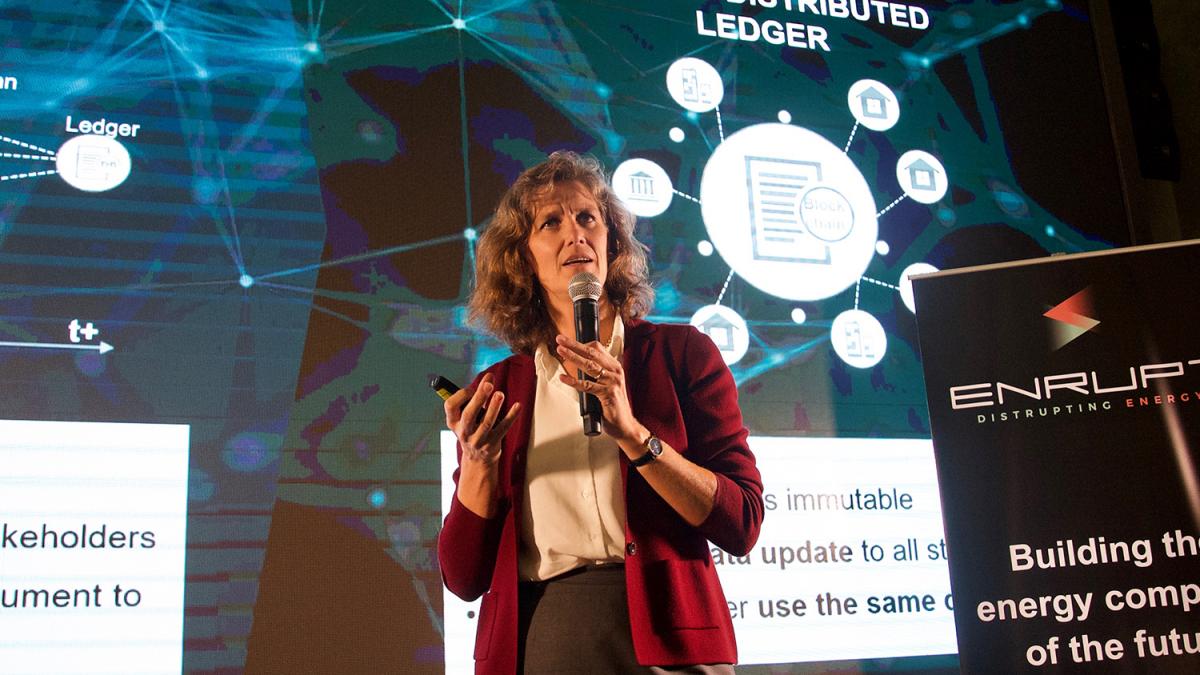 Ms Pernille Dahlgaard says the current state of blockchain is just like the early days of the internet
When blockchain does mature and gains more widespread acceptance, the opportunities it will bring to the energy sector can be immense and sometimes unexpected, said the panel. "The kind of [energy usage] data we're aggregating has repercussions all the way up the value chain, which are very interesting," said Mr Lim.
For instance, energy consumption patterns could potentially be used to check on elderly people living alone—a suspiciously long period of inactivity, for example, could indicate that something is amiss and trigger a call for help. This unconventional idea of a power company performing a public health function has already been mooted in Japan, said Mr Lim.
"Blockchain is really a technology that fits the trends in society and in innovation. Ten to twenty years ago, we had a lot of bilateral transactions between companies; now we're talking so much more about ecosystem integration," said Ms Dahlgaard. "There's a lot more awareness that without creating multiple partnerships, not only within your own industry but across industries, you're not going to be successful. Maybe the synergy between blockchain and this need for cross-industry, cross-value chain collaboration will accelerate each other."
Blockchain is one of SGInnovate's focus areas under our Deep Tech Nexus strategy. We believe in its potential to transform the energy sector and beyond. Be part of our future blockchain discussions!
Sim Shuzhen
Topics: Blockchain, MedTech / HealthTech / BioTech, Investments, Others


Share this with your network!