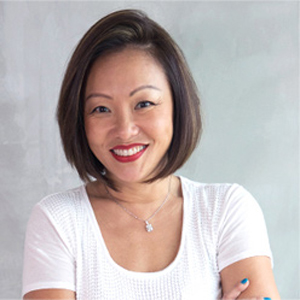 Ms SzeKi Sim
Executive Director – Community & Brand
SGInnovate
A seasoned and passionate marketer, SzeKi joined SGInnovate as part of its pioneer team in Sep 2016. She was entrusted with building the brand and communications team from scratch, to achieve SGInnovate's mission of enabling ambitious and talented men and women to build, commercialise and scale globally relevant Deep Tech innovations from Singapore. SzeKi also supports these entrepreneurial scientists in crafting, shaping and telling their stories – an important part of their go-to-market journey.
To promote Singapore as a place of thriving innovation in Deep Tech entrepreneurship, SzeKi leads the SGInnovate team in spearheading activities to create a holistic ecosystem, providing a platform where founders, researchers, academics, venture capitalists, corporations come together to share experiences in areas such as Artificial Intelligence, Autonomous Tech, Robotics, MedTech and Quantum Tech.

In less than three years, she has led the establishment of SGInnovate as a leading force in driving Deep Tech innovation and entrepreneurship in Singapore and internationally. SGInnovate has built a thriving community of over 34,000 people from across the ecosystem and clinched multiple awards including the Best B2B PR Campaign (Silver) at the Marketing PR Awards 2017, Outstanding B2B Campaign – Singapore (Merit) and Outstanding Overall Corporate Reputation Programme (Merit) at the PRISM Awards 2019, as well as the Best PR Campaign – B2B (Silver) at the Marketing PR Awards 2019.

Before SGInnovate, SzeKi's long career in marketing included leading teams with global technology brands such as Hewlett Packard, Motorola and Nokia regionally and globally. Her 15 years at Motorola saw her in various leadership positions including Executive Director of Marketing – Asia Pacific for Motorola Networks, and Executive Director of Marketing – Asia and Middle East for Motorola Solutions. At Nokia Siemens Networks (now Nokia), SzeKi was the Global Executive Director of Customer Marketing for their Global Services organisation.