Singapore, December 3, 2020 – Following the announcement that it plans to make Singapore the company's global Artificial Intelligence (AI) innovation hub by 2023, Infineon Technologies (FSE: IFX / OTCQX: IFNNY) signed on December 1 agreements with four organisations to boost the AI ecosystem in Singapore.
Singapore's Deputy Prime Minister, Coordinating Minister for Economic Policies and Minister for Finance Heng Swee Keat witnessed the event held at Infineon Technologies Asia Pacific Headquarters in Singapore.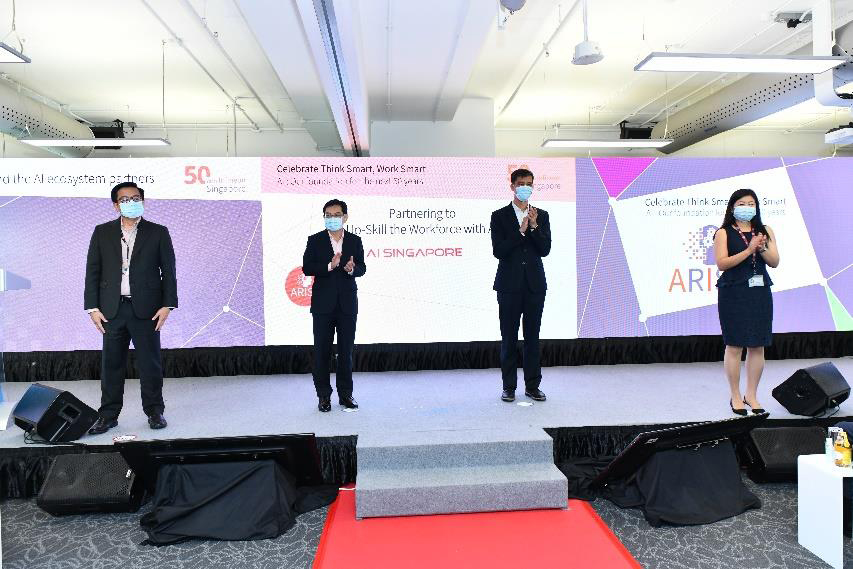 From left to right, Laurence Liew, Director of AI Innovation, AISG, Deputy Prime Minister Heng Swee Keat, President and Managing Director of Infineon Asia Pacific Chua Chee Seong and Pamela Leong, Vice President of Human Resources, Infineon Asia Pacific.
AI Singapore (AISG) is a national program office that develops AI engineering capability for companies as one of its main workstreams. In this collaboration, AISG will help Infineon develop company-wide AI literacy, enable their staff to upskill themselves and learn data science and AI in Python and recognise their internal AI talents via the Chartered AI Engineer professional qualification.
"AISG is excited to play a part in contributing to Infineon's digital transformation and training journey. As the national AI program, our key thrusts are to anchor deep national capabilities in AI and to groom local AI talents. As AI becomes more pervasive and with Singapore moving into becoming a smart nation, it is important that our people are not only AI-aware, they will also be AI-enabled and ready to be producers and users of AI products and services," said Laurence Liew, Director of AI Innovation, AI Singapore.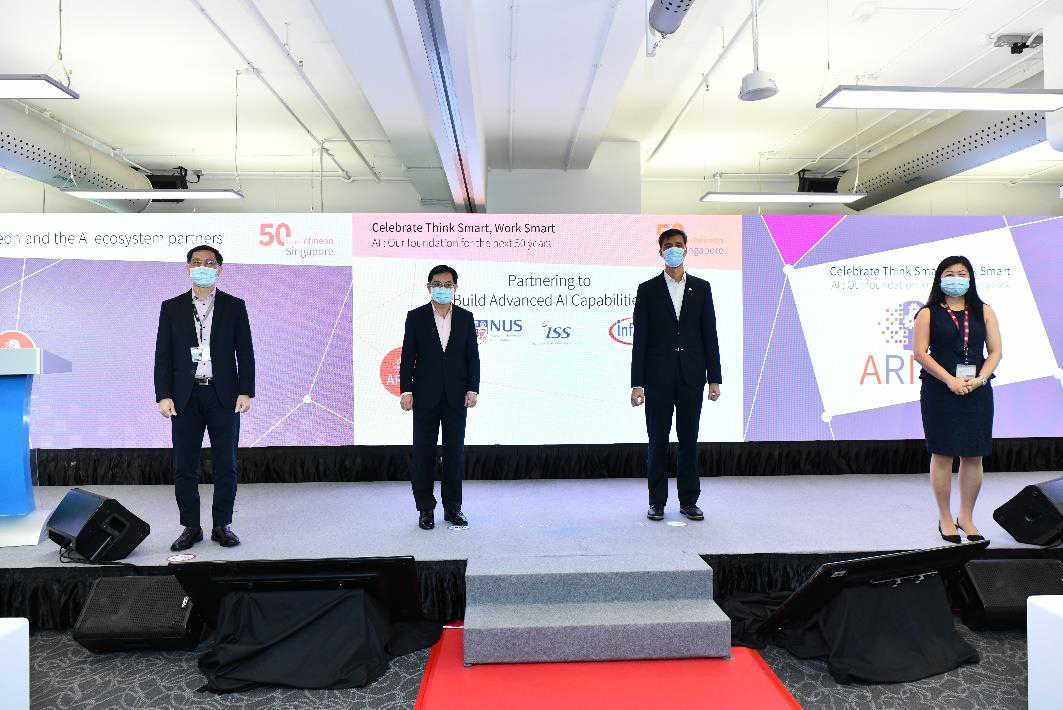 From left to right, Khoong Chan Meng, CEO, NUS-ISS, Deputy Prime Minister Heng Swee Keat, President and Managing Director of Infineon Asia Pacific Chua Chee Seong and Pamela Leong, Vice President of Human Resources, Infineon Asia Pacific.
NUS Institute of System Science (ISS) will support Infineon in developing AI competencies including customised training programs focused on building AI skills to solve problems within the organisation. Infineon will collaborate with NUS-ISS in talent development for AI related job positions. NUS-ISS will also provide AI and Machine Learning consultancy services.
"Artificial Intelligence is rapidly shaping the future of work, and NUS-ISS is proud to have supported AI adoption in industry for more than 30 years. We are honored to partner closely with Infineon on training programs, projects, talent acquisition and community engagement to deepen and harness AI and Machine Learning skills to drive digital transformation efforts. Through a holistic and collaborative approach, we are looking forward to developing digital leaders and change agents to support Infineon's plans moving forward," said Khoong Chan Meng, CEO of NUS-ISS.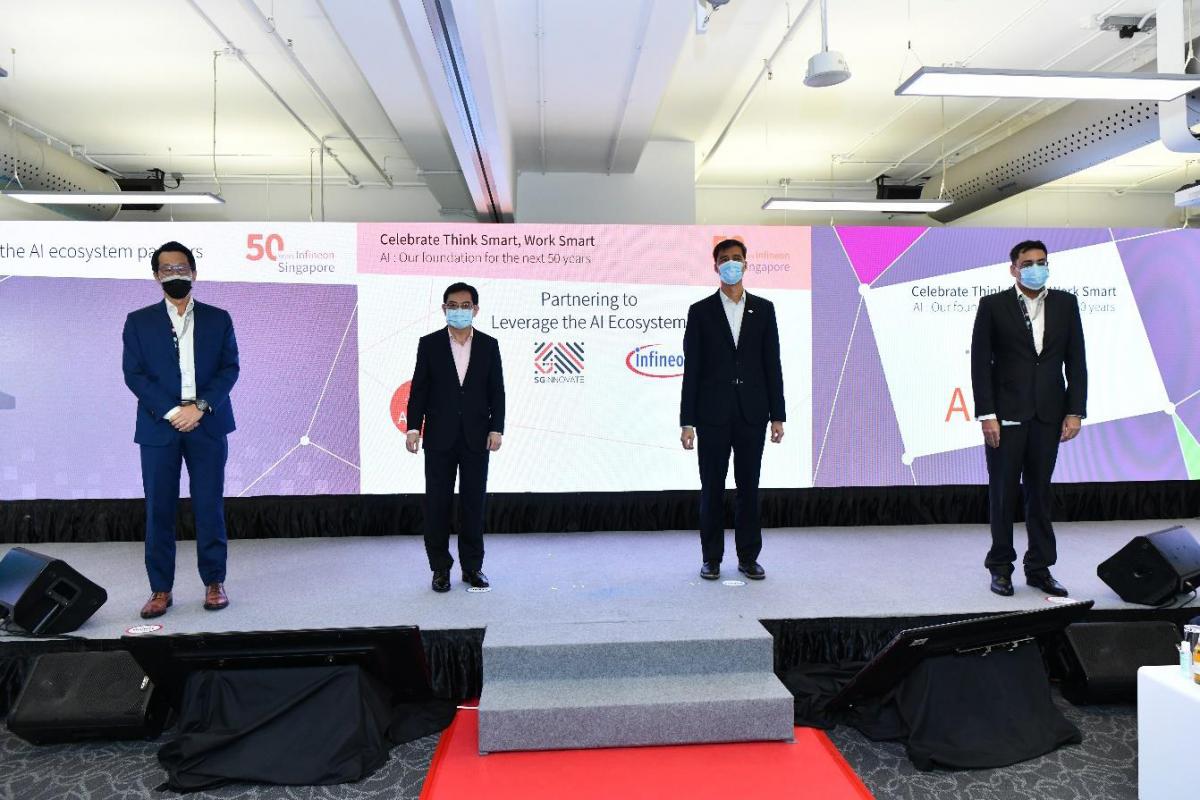 From left to right, Lim Jui, CEO, SGInnovate, Deputy Prime Minister Heng Swee Keat, President and Managing Director of Infineon Asia Pacific Chua Chee Seong and Rohit Girdhar, Vice President, Strategy and M&A, Infineon Asia Pacific.
SGInnovate and Infineon will collaborate to support the development and growth of AI startups in technology sectors in Singapore. As a leading Deep Tech investor, SGInnovate will identify potential startups to work with Infineon on their problem statements. Infineon will partner with SGInnovate in reaching out to and growing the AI ecosystem in Singapore, tapping on SGInnovate's over 55,000- strong Deep Tech community for joint events and community engagement activities. SGInnovate will also support Infineon in the search for AI experts and talent via its network and marketplace.
"Collaborations between the public sector, corporations and startups are critical in fostering a vibrant Deep Tech ecosystem, especially in providing support for the commercialisation of scientific research, scaling high-potential startups and nurturing talent. By consolidating our expertise and network, I am confident that our partnership with Infineon will unlock greater opportunities for startups to tap on the power of AI and bring to market practical innovations that can solve industry and global challenges. We are pleased to work with Infineon to deepen AI capabilities in Singapore and hope that more corporate players can join us as we continue our push to grow a thriving Deep Tech economy," said Dr Lim Jui, CEO of SGInnovate.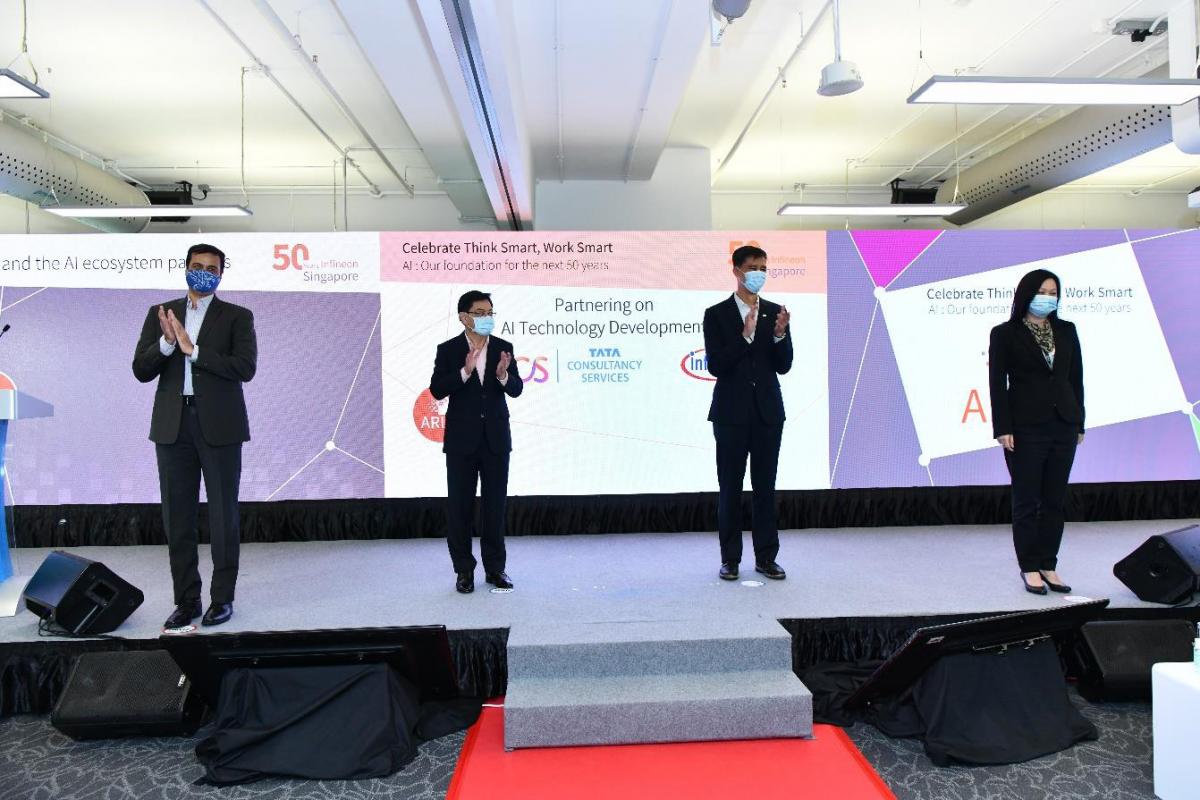 From left to right, Ameet Nivsarkar, VP and Country Head, Tata Consultancy Services, Deputy Prime Minister Heng Swee Keat, President and Managing Director of Infineon Asia Pacific Chua Chee Seong and Natalie Yap, IT, Vice President of Information Technology, Infineon Asia Pacific.
Tata Consultancy Services Asia Pacific Pte. Ltd. is a global leader in IT services, digital and business solutions, which partners with customers across the globe including leading semiconductor companies to simplify, strengthen and transform their businesses through its comprehensive industry expertise and a global network of innovation and delivery centres. TCS will collaborate with Infineon in exploring AI, Machine Learning and related technology including data management concept, data science support, data engineering support and AI platform architecture. In addition, TCS will provide Infineon with trainings, knowledge ramp-up and knowledge transfer through best practice sharing, seminars, expert talks and benchmarking exercises.
"TCS has been leveraging its deep domain expertise in the semiconductor industry, and its investments in research and innovation in the areas of Artificial Intelligence and Machine Learning to enable our customers to scale from proof-of-concepts to the industrialisation of AI solutions, to further their growth and transformation aspirations. We are excited to partner with Infineon in this strategic initiative, and use our contextual knowledge to help them harness the power of Machine Learning and AI to transform different aspects of their business," said V Rajanna, Global Head, Technology Business Unit, TCS.
About Infineon
Infineon Technologies AG is a world leader in semiconductor solutions that make life easier, safer and greener. Microelectronics from Infineon are the key to a better future. In the 2020 fiscal year (ending 30 September), Infineon reported revenue of more than €8.5 billion with a workforce of some 46,700 people worldwide. Following the acquisition of the US company Cypress Semiconductor Corporation in April 2020, Infineon is now a global top 10 semiconductor company.
Infineon is listed on the Frankfurt Stock Exchange (ticker symbol: IFX) and in the USA on the over-the-counter market OTCQX International Premier (ticker symbol: IFNNY). Further information is available at www.infineon.com.
This press release is available online at www.infineon.com/press.
Follow us: Twitter – Facebook – LinkedIn
For the Business and Trade Press:
Media Relations: Asia
Chi Kang David Ong
[email protected]