Your search results
SGInnovate's Infinity (∞) Series is a Deep Tech Immersion Programme that seeks to groom top multi-disciplinary Talent through cumulative placements across different technical areas such as Software Development, Data Engineering, Data Analytics, UI / UX design, Product Management etc.   
Infinity Series offers talent the breadth to explore varied technical roles and product development stages to broaden their understanding of how innovation is translated into reality. Their industry experience will be supplemented by modular training curated by SGInnovate alongside industry experts. Students are encouraged to re-join Infinity Series and take up different internships to grow holistically across the 4  key pillars in the product development lifecycle.  
Hence, aside from strong technical skills, start-ups can expect returning Infinity Series Talent to possess competencies across these 4 areas, which will be advantageous in helping start-ups accelerate their product development at different stages.  

*If the applicant is holding a Student Pass in Singapore, he/she is only allowed to work if he/she meets specific requirements. Click here to find out more. Due to the COVID-19 border restrictions, only students who have been approved by the respective IHLs to further their studies in Singapore will be considered.  
The applicant must be able to showcase relevant skills and knowledge for the project that he/she applies for, e.g.: 
Academic courses in IHLs 

Online courses (e.g. Coursera, Udemy) 

Projects (e.g. Github, Stackoverflow) 

Working experience (e.g. internships, part-time, freelance) 

Awards and competitions (e.g. Hackathons, Datathons) 
Please refer to our website to see the specific eligibility criteria for the respective roles.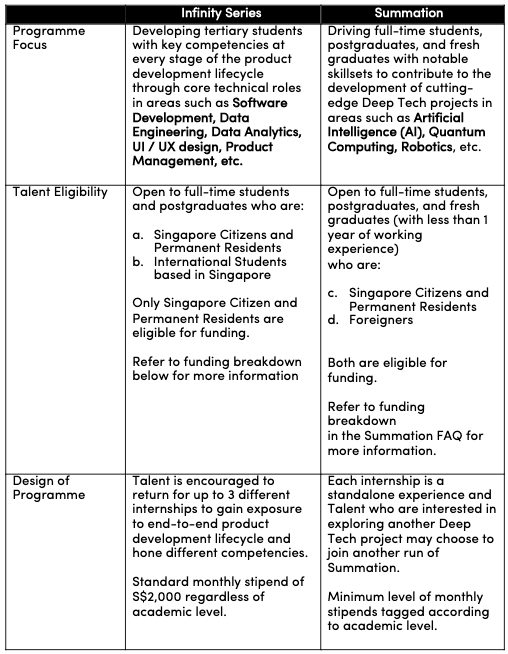 The Infinity Series provides students with exposure to the product development lifecycle of Deep Tech products and opportunities to develop their technical capabilities which would boost their employability when they graduate. Modular training are also curated for each trainee depending on the competencies the role requires. 
The unique feature of the Infinity Series encourages students to return for up to a maximum of 3 different internships to ensure the holistic development of the student and gain experience in the end-to-end product development lifecycle. 
Here is an example of how a student will be able to experience different product development stages and grow in the 3 key pillars by completing 3 different internships under the Infinity Series.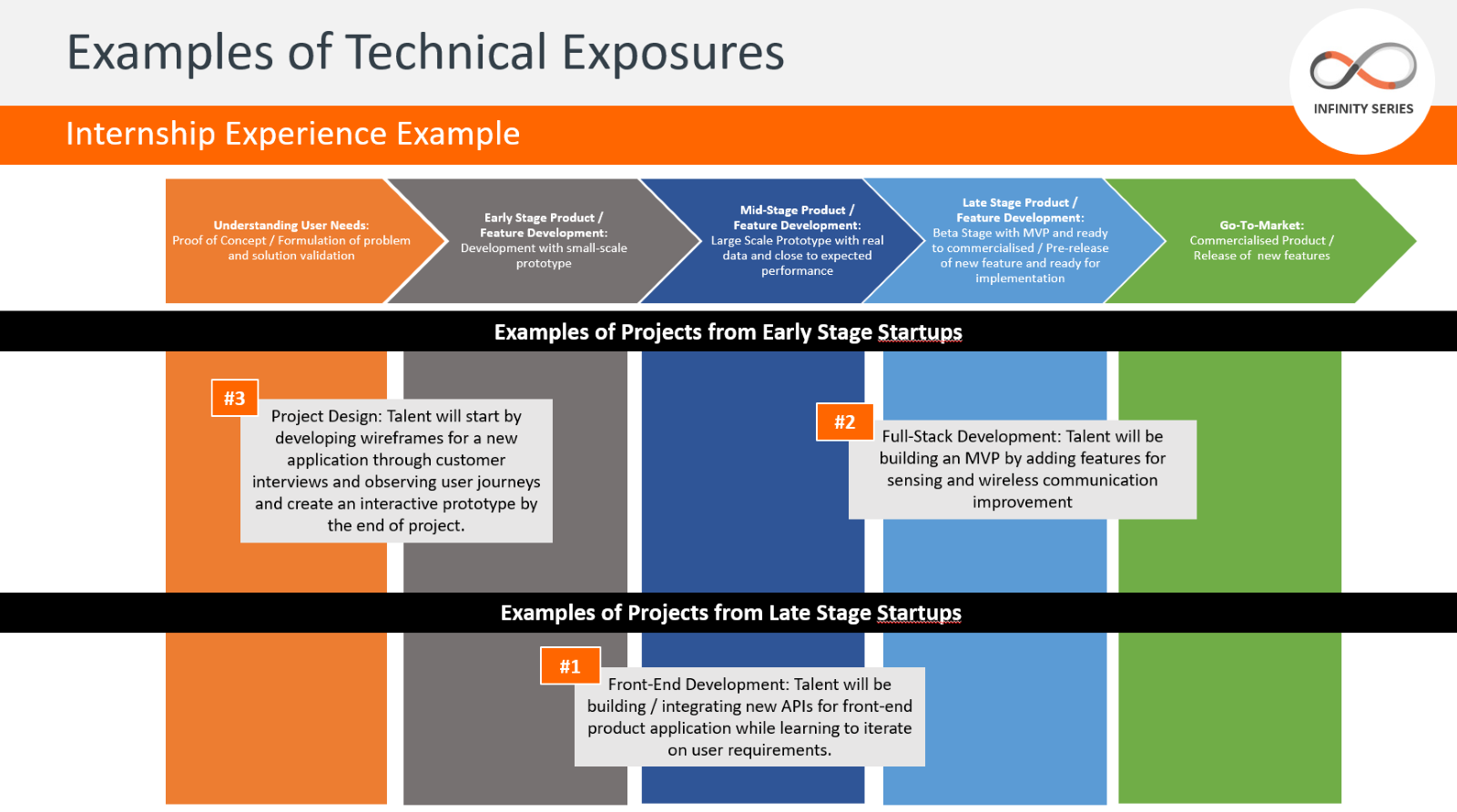 Please refer to the timeline reflected in our website under Infinity Series. No submissions will be accepted after the stipulated deadlines. 
No. Each organisation will provide the scope and specify the duration unique to the roles and projects offered. 
The programme duration ranges from 3 – 6 months with a minimum commitment of three (3) months full-time. The actual duration of the programme may vary based on role requirements and Talent availability.  
A combination of full-time and part-time arrangements may be considered to help meet the minimum commitment of 3 months full-time combined (subject to approval by SGInnovate). 
The monthly stipend for each Talent is S$2,000 regardless of academic qualifications and it is CPF exempted.
The system only allows an applicant to edit his/her submission during the draft stage. Once the application form is successfully submitted, edits are no longer allowed.  
Applicants can choose to re-submit another application form. However, only the last application submitted before the deadline will be considered.  
Start dates are flexible and should be agreed upon between the organisation and the Talent prior to signing the agreement.