Principles of Information Security Control
Presented by SGInnovate & Tegasus
Are you and your organisation ready to manage and respond to cyber-attacks?
This three-day workshop is the second installation of the Cybersecurity Professional Series aimed at equipping you and your organisation in building a robust cyber defence system.
Throughout this workshop, you will be able to identify critical security risks and problems posed by new technologies and business practices and define security specifications which fulfil security objectives and functional requirements.
By the end of the course, you will also learn to design secure systems and controls based on IT architectural guidelines and requirements. You will also learn to incorporate controls into secure system components to minimise security breaches or lapses. While planning your secure systems, you will learn how to check for an adequate level of security robustness in system designs.
This workshop is for participants who have an interest in Cybersecurity or those who would like to use their understanding of Cybersecurity concepts to improve their working posture in their organisation and help formulate best practices to safeguard organisation interests. This workshop would be a good starting point for participants who would like to pursue a career in the Cybersecurity field as well.
This workshop is eligible for funding support. For more details, please refer to the "Pricing" tab above.
In this workshop, participants will learn about:
Fundamentals of information security
Information security
Communications and network security
Security assessment and testing
Security operations
Prerequisites:
An interest in Cybersecurity
Working in the Cybersecurity space for at least two years
Pre-Workshop Instructions:
You MUST bring your laptop to this workshop
Day 1
Fundamentals of Information Security
Fundamentals of Information Security
Information Security ecosystem
Recap (risk assessment, risk analysis, risk management and ongoing risk monitoring)
Recap (Confidentiality, Integrity and Availability (CIA triad))
Information classification, information valuation and information life-cycle
Security clearance
Exercise: information classification, justification and impact
Information security controls/protection
Exercise: information classification and controls application
Information Security Control Frameworks
Communications and Network Security (part 1)
Network architecture and design
Understanding Internet, Intranet & Extranet
Understanding LAN, WAN, MAN, PAN, CAN and GAN
LAN, WAN, MAN, PAN and GAN connection technologies
Exercise: Design a network for a company
Simplex, half-duplex and full-duplex communication
Circuit-switched and packet-switched networks
Understanding secure network architecture
Communications and Network Security (part 2)
Understanding OSI reference model
OSI model (layer 1 to layer 7), its functions, and pros and cons
Threats to network security
Secure network devices and protocols (layer 1 to layer 7)
Exercise: Design a highly secured network architecture
Protocols for Point-to-Point (PPP) authentication
CHAP - Challenge-handshake authentication protocol
802.1X and Extensible Authentication Protocol (EAP)
Protocols for Authentication, Authorisation, Accounting (AAA)
Wireless encryption
Exercise: Design a secured corporate network
Other protocols for secure communications
Day 2
Security Assessment and Testing
Understanding security assessment
Understanding security audits
Vulnerability assessment and penetration testing
Vulnerability scanning
Testing methodology
Testing guidelines
Testing considerations
Testing – rules of engagement, types of penetration tests, software testing methods (dynamic testing vs static testing, black-box vs white-box testing
Testing – tools and techniques (network scanning, password cracking, rogue/misconfiguration infrastructures, war dialling and corrective actions)
Understanding network traffic
Understanding Intrusion Detection System (IDS) – HIDS and NIDS
Intrusion Detection System (IDS) vs Intrusion Protection System (IPS)
Understanding honeypot and honeynet
Exercise: conducting a vulnerability assessment (OpenVAS and nmap)
Day 3
Security Operations
Introduction to security operations
Change management
Configuration management
Patch management
Vulnerability management
Fundamentals of incident response
Event types of IDS/IPS
NIDS and NIPS
HIDS and HIPS
Security information and event management (SIEM) system
Data loss prevention (DLP) system
Endpoint security system
Security Operations (Continuity of Operations)
Understanding continuity of operations
Fault tolerance
Redundant array of independent disks (RAID)
High availability (HA) clusters (failover cluster)
Business continuity planning (BCP)
Disaster recovery planning (DRP)
Relationship between BCP and DRP
Disasters or disruptive events
Relationship of BCP to risk management
Business continuity planning process:

Project initiation
Scope of the project
Business impact analysis (BIA)
Identify preventive control
Recovery strategy
Plan design and development
Implementation, training, and testing
BCP maintenance

BCP/DRP mistakes
Individual Project Assessment
Funding Support
This workshop is eligible for CITREP+ funding.
CITREP+ is a programme under the TechSkills Accelerator (TeSA) – an initiative of SkillsFuture, driven by Infocomm Media Development Authority (IMDA).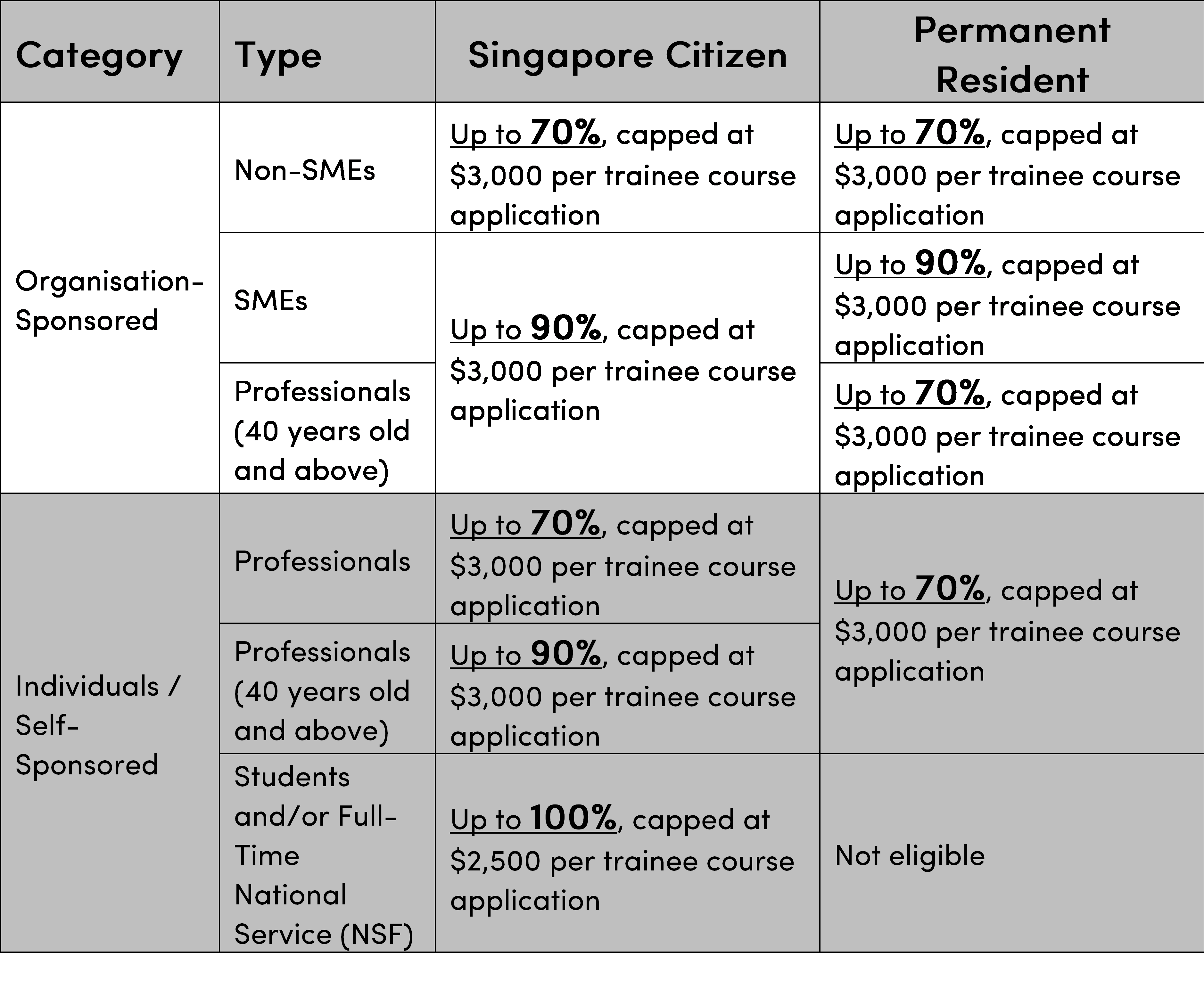 *Please see the section below on 'Guide for CITREP+ funding eligibility and self-application process'
Funding Amount:
CITREP+ covers up to 90% of your nett payable course fee depending on eligibility for professionals
Please note: funding is capped at $3,000 per course application
CITREP+ covers up to 100% funding of your nett payable course fee for eligible students / full-time National Servicemen (NSF)
Please note: funding is capped at $2,500 per course application
Funding Eligibility:
Singaporean / PR
Meets course admission criteria
Sponsoring organisation must be registered or incorporated in Singapore (only for individuals sponsored by organisations)
Please note:
Employees of local government agencies and Institutes of Higher Learning (IHLs) will qualify for CITREP+ under the self-sponsored category
Sponsoring SMEs organisation who wish to apply for up to 90% funding support for course must meet SME status as defined here
Claim Conditions:
Meet the minimum attendance (75%)
Complete and pass all assessments and / or projects
Guide for CITREP+ funding eligibility and self-application process:
For more information on CITREP+ eligibility criteria and application procedure, please click here.
In partnership with:Driven by:


For enquiries, please send an email to learning@sginnovate.com
Ivan Lee, Co-founder, Tegasus International
Across the globe, Ivan works with various strategic partners such as the NATO Cooperative Cyber Defence Centre of Excellence, US Department of Homeland Security ICS-CERT Idaho National Laboratory and local government agencies on key initiatives and training programmes.
He started his career with Accenture, global top IT consulting MNC company and has assumed various tech-management roles in the telecommunication, cGMP and Operational Technology sectors regionally. He is currently the Deputy Director of Cyber Security Technologies in iTrust — a Centre for Research in Cybersecurity that was established by Ministry of Defence and Singapore University of Technology and Design.
He is also a SUTD Academy Fellow and a member of the Coordinating Committee for Cybersecurity (CCCY) Subcommittee for Critical Information Infrastructure (CII).
He has attended various professional training and acquired certifications as listed below:
Certified Information Systems Security Professional (CISSP)
US Department of Homeland Security ICS-CERT Industrial Control Systems (ICS) Cybersecurity (301)
Advanced Penetration Testing, Exploit Writing, Ethical Hacking (SANS)
Advanced Course on Darknet and Crypto Currencies
Hands-on Hardware Hacking and Reverse Engineering (Blackhat 2015)
Cybersecurity: Technology, Application and Policy (MIT Digital Program)
FORENSICS: Reverse-Engineering Malware (SANS)
Managing Successful Programmes (MSP) Practitioner, 2014
Introduction to Business Process Reengineering Workshop
Live Hacking & Information Security Masterclass
Self-Discovery Leadership
EC-Council Certified Security Analyst (ECSA), 2013
Certified Ethical Hacker (CEH), 2013
Project Management Professional (PMP)
Topics: Cybersecurity
You may also like the following: