Principles and Engineering of Secure Solution
Presented by SGInnovate & Tegasus International
Together with Tegasus International, SGInnovate is proud to present a series of Cybersecurity workshops designed to prepare you and your organisation for impending security threats and vulnerabilities.
These workshops will enable you to have a stronger understanding of cybersecurity threats, proper cyber-hygiene and the technologies that can be implemented to negate or minimise impact of cyber-attacks.
Through this 3-day workshop, you will have a better understanding of the Cybersecurity digital ecosystem. You will learn to identify critical security risks and problems posed by new technologies and business practices, and learn how to design secure systems and controls based on IT architectural guidelines and requirements.
There will be an emphasis on real-world use cases and hands-on application for fundamental Cybersecurity concepts, attack vectors and good practices.
You will also learn to incorporate controls into security system components to spot security breaches or lapses in system designs.
By the end of the workshop, you will be able to apply your knowledge to improve your organisation's Cybersecurity posture and implement best practices to safeguard your organisation's interest.
This workshop is eligible for funding support. For more details, please refer to the "Pricing" tab above.
In this workshop, participants will learn about:
The Cybersecurity ecosystem
Identity and access management
Security engineering and design
Solution security and principles
Prerequisites:
An interest in Cybersecurity
At least two years of Cybersecurity-related work experience
Pre-Workshop Instructions:
Bringing your own laptop is a must
Day 1 (25 November 2019)
An overview of the Cybersecurity ecosystem
Our digital ecosystem
Motivational factors for attacking
Attacker goals, skillset and profiles
Statistics of cyber-attacks in 2018
Risk analysis (quantitative and qualitative)
Practice session (risk analysis exercise)
Pros and cons of Cybersecurity solutions
Concepts of confidentiality, integrity and availability
Identity and access management
Fundamentals of Cybersecurity
Introduction to identity and access management
Explain authentication (type 1, 2, 3 and 4)
Practice session (type 1 vulnerability exposure exercise)
Cyber threats facing authentication
Explain authorisation
Issues about authorisation
Methods for managing authorisation
Access control models (DAC, MAC, RAC and RuAC)
Access control administration
Security engineering and design (Part 1)
Principles of secure design
Security models (state machine, Bell-LaPadula, Biba and commercial models)
Security evaluation criteria
Introduction to Cryptography
Cryptography in history
Day 2 (26 November 2019)
Security engineering and design (Part 2)
Symmetric key cryptography
Asymmetric key cryptography
Hybrid cryptography
Practice session (encryption and decryption exercise)
Cryptography with integrity
Cryptography – data at rest & data in motion
Solution security and principles
Revision of Day 1
Understanding the solution design ecosystem
Secure the weakest link
Practice defence in depth
Fail securely
Follow the principle of least privilege
Compartmentalise
Keep it simple
Promote privacy
Remember that hiding secrets are hard
Be reluctant to trust
Use your community resources
Day 3 (27 November 2019)
Revision of Day 2
Discussion of real-world use cases
Presentation by participants (Assessment)
Funding Support
This workshop is eligible for CITREP+ funding.
CITREP+ is a programme under the TechSkills Accelerator (TeSA) – an initiative of SkillsFuture, driven by Infocomm Media Development Authority (IMDA).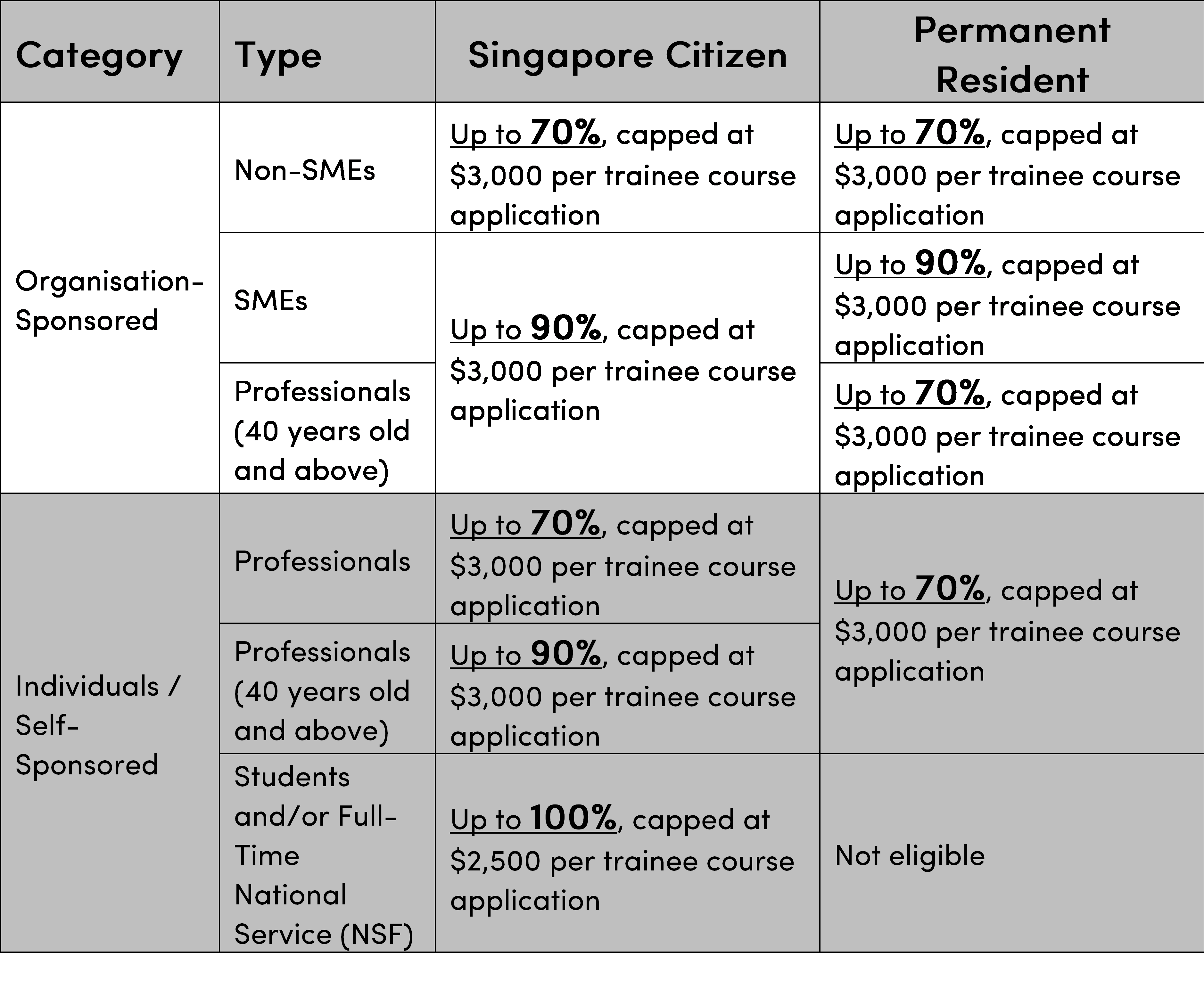 *Please see the section below on 'Guide for CITREP+ funding eligibility and self-application process'
Funding Amount:
CITREP+ covers up to 90% of your nett payable course fee depending on eligibility for professionals
Please note: funding is capped at $3,000 per course application
CITREP+ covers up to 100% funding of your nett payable course fee for eligible students / Full-Time National Service (NSF)
Please note: funding is capped at $2,500 per course application
Funding Eligibility:
Singaporean / PR
Meets course admission criteria
Sponsoring organisation must be registered or incorporated in Singapore (only for individuals sponsored by organisations)
Please note:
Employees of local government agencies and Institutes of Higher Learning (IHLs) will qualify for CITREP+ under the self-sponsored category
Sponsoring SMEs organisation who wish to apply for up to 90% funding support for course must meet SME status as defined here
Claim Conditions:
Meet the minimum attendance (75%)
Complete and pass all assessments and / or projects
Guide for CITREP+ funding eligibility and self-application process:
For more information on CITREP+ eligibility criteria and application procedure, please click here.
In partnership with:Driven by:


For enquiries, please send an email to learning@sginnovate.com
Ivan Lee, Co-founder, Tegasus International
Ivan works with various global strategic partners such as the NATO Cooperative Cyber Defence Centre of Excellence, US Department of Homeland Security ICS-CERT Idaho National Laboratory and local government agencies on critical initiatives and training programmes.
He started his career with Accenture, a global top IT consulting MNC company and has assumed various tech management roles in the telecommunication, cGMP and Operational Technology sectors regionally.
He has attended various professional training courses and acquired certifications as listed below:
Certified Information Systems Security Professional (CISSP)
US Department of Homeland Security ICS-CERT Industrial Control Systems (ICS) Cybersecurity (301)
Advanced Penetration Testing, Exploit Writing, Ethical Hacking (SANS)
Advanced Course on Darknet and Cryptocurrencies
Hands-on Hardware Hacking and Reverse Engineering (Blackhat 2015)
Cybersecurity: Technology, Application and Policy (MIT Digital Program)
FORENSICS: Reverse-Engineering Malware (SANS)
Managing Successful Programmes (MSP) Practitioner, 2014
Introduction to Business Process Re-engineering Workshop
Live Hacking & Information Security Masterclass
Self-Discovery Leadership
EC-Council Certified Security Analyst (ECSA), 2013
Certified Ethical Hacker (CEH), 2013
Project Management Professional (PMP)

Topics: Cybersecurity
You may also like the following: