Masterclass: Learn Blockchain By Building One
Presented by SGInnovate, Kingsland University and Ngee Ann Polytechnic
Explore exciting opportunities for an exciting and lucrative career in Blockchain through this masterclass. Learn about foundational concepts, applications and most importantly, how to build a Blockchain yourself.
This workshop will explore why Blockchain is needed, how it works, what the potential issues are – both from a high-level conceptual perspective and through real-world use cases.
Recommended Prerequisites
Understanding of JavaScript development (promises, Node.js, npm, basic JavaScript front-end)
Object-oriented programming, working with classes and objects (e.g. C#, Java, Python, JavaScript or C++)
Experience in Web development and REST APIs (build simple server-side Web apps)
Attendees MUST bring their laptops
In this course, participants will learn:
The difference between trust-based and trustless systems
To develop your own "financial system" in Blockchain
To build your Blockchain and discuss potential issues and solutions
About cryptographic signatures, hashing, consensus algorithms ("mining" will make an appearance here)
Where the term "Blockchain" comes from
How Blockchain is useful for our financial system and other applications
About smart contracts
Hands-on exercise: How to build your Blockchain
Note: This masterclass is a preview for our upcoming Blockchain Development Program. To register your interest after the Masterclass, click here.
Previous Testimonials on the Blockchain Developer Program:
"I wanted to take the Kingsland Blockchain Developer course because in tech you always have to stay sharp. The course was quite hands-on and challenging. Lots of exercises allowed me to dive in and test stuff out for myself. Blockchain is now a focus for me, and I'm currently in the process of assembling a team and securing financing for a new company and project that will include blockchain technology."
– Alexander A., Bulgaria
"The Kingsland blockchain developer training program is intense, and so it should be; there's so much information to get through! Every day there is news about blockchain and the course accounts for that – if it were at a normal pace, we wouldn't learn the skills we need!"
– George P., Bulgaria
"The best part of the course was creating decentralised applications using Ethereum; I took the course because I wanted to know how Blockchain works, but I didn't realise what a huge impact Kingsland's course would have on my life."
– Kim G., Philippines
"The course is very intensive with a lot of hands-on exercises. The trainers are very good at explaining the materials in a simplified manner, and there was no restraint in their knowledge sharing. They were patient and welcomed all of our questions which made the course enjoyable."
– Calvin Tan K.S., Singapore
6:00pm – 6:30pm: Registration (Light refreshments will be provided)
6:30pm – 9:15pm: Masterclass: Learn Blockchain By Building One
9:15pm – 9:30pm: Closing comments and questions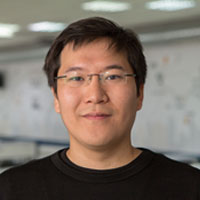 Anar Enhsaihan
Anar Enhsaihan has been an iOS engineer for a multitude of startups and Apps that he has worked on have reached hundreds of thousands of users in markets including North America, Europe, and Asia. He's deployed a dApp on the Ropsten Ethereum network that fully takes advantage of the decentralized nature of the Blockchain.
Topics: Blockchain
You may also like the following: