Role of the Human Element in Cybersecurity [Online Event]
Presented by Right-Hand Cybersecurity
Partnered with SGInnovate
Roughly 90% of data breaches are caused by employees - the weakest link when it comes to computer security. As such, Cybersecurity is one of the top concerns in the workplace. Despite its high priority, many organisations struggle to emphasise the importance of Cybersecurity to its workforce.
Join us as Cybersecurity industry leaders share their insights and perspectives on how companies of all sizes can manage and mitigate cyber risks that plague their workplace.
Date: 16 April 2020, Thursday
Time: 10:00am – 11:00am
Programme:
10:00am – 11.00am: Panel Discussion and Q&A
Aloysius Cheang, EVP, Centre for Strategic Cyberspace + International Studies (CSCIS)
Navinchandra Daund, Vice President – Cyber Security, Nomura Investments Singapore
Manish Chawda, Partner, Pragma Singapore
Moderator: Theo Nasser, CEO & Co-founder, Right-Hand Cybersecurity
Speakers' Profiles:
Aloysius Cheang, EVP of Centre for Strategic Cyberspace + International Studies (CSCIS)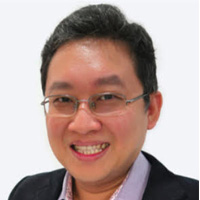 Aloysius Cheang is a senior corporate executive with extensive experience running global businesses. In his line of work, he had managed large multi-cultural, multi-disciplinary team spread across 5 continents and 4 major time zones in a highly heterogeneous and demanding environment, many a time building up the business from scratch.
Aloysius is Board Director and EVP Asia Pacific for globally respected not-for-profit UK based cyber leadership think tank, the Centre for Strategic Cyberspace + International Studies (CSCIS). He is also a Director with AC3Labs where he provides his expertise advising companies in emerging technology projects, framework agreements and investment and a Co-founder of IoT security startups, iSyncGroup Technology Inc and Doqubiz Technology Inc. Aloysius was most recently Co-founder, EVP and Managing Director for the Cloud Security Alliance Asia Pacific.
As a globally recognised Cybersecurity expert and influencer, Aloysius's professional opinions and viewpoints are highly valued by major media globally such as the BBC, Times, Wall Street Journal, ZDNet, CIO-Asia, IDC, BankinfoSecurity, Dark Reading, Xinhua News, CCTV, Phoenix News, SCMP, The Hindu, The Times of India, The Daily Star, China Times, Digitimes, UDN, The Nation, Bangkok Post, Zaobao, Today, The Straits Times and CNA.
Navinchandra Daund, Vice President, Cyber Security, Nomura Investments Singapore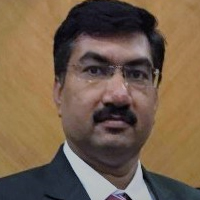 Navin is an experienced information security professional with more than 17 years of experience in various domains including information security strategy, governance, risk and control, regulatory compliance, information security awareness and continuous security monitoring. Navin has managed 24x7 global SOC in India before moving to Singapore this year to manage Cyber Security in the region.
Navin holds a post-graduate diploma in IT business management in formal education. In terms of professional certifications, he holds CRISC, CISM and CISA apart from several IT domain titles.
Navin is a Vice President in Nomura Investments Singapore, managing regional IT Security. He is also deputy chair of the strategic committee of financial services information sharing and analysis centre (FS-ISAC), member of FS-ISAC threat intel committee and volunteer in ISACA Singapore chapter.
Manish Chawda, Partner, Pragma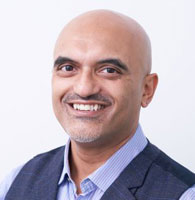 Manish has over 24 years of experience at multi-national companies, and extensive experience developing innovative technical solutions address complex business issues. Before Pragma, Manish was with Grant Thornton and PricewaterhouseCoopers, where he led the Technology Risk practices and was the IT Audit Support Partners for 80 companies.
Previously he established the Payment Card Industry (PCI) Centre of Excellence (COE) in EMEA in 2012. The PCI COE supports and advises clients on PCI compliance challenges and achieved the PCI Qualified Security Assessor (QSA) company status.
As a Partner at Pragma, Manish is responsible for advising clients on strategic and tactical solutions for technology regulation, information security, IT audit, governance, risk and compliance. Manish also assists government agencies and international law enforcement agencies on technology process improvements.
Moderator's Profile:
Theo Nasser, CEO and Co-founder, Right-Hand Cybersecurity
Theo is the CEO and Co-founder of Right-Hand Cybersecurity. He is originally from Silicon Valley, and has been based in APAC across Singapore, Japan, and Australia since 2014. Prior to founding Right-Hand, Theo helped expand FireEye's Managed Security business across APAC, and also served as Sales Director, APAC at SonicWall. Theo is a mission oriented business leader, driven to shift the power away from attackers and back into the hands of businesses.
Theo holds a Bachelor of Science in Commerce, a degree in Business from the Santa Clara University in California.
Right-Hand Cybersecurity is a Singapore based company that provides a gamified SaaS platform to empower businesses to monitor, measure, and mitigate employee inflicted cyber risk in real-time.
Topics: Others
You may also like the following: