Future of Smart and Personalised Healthcare [Online Event]
Presented by SGInnovate and French Chamber Singapore
As the world moves into the next era of the industrial revolution, technologies today are primarily guided by big data and adoption of interconnectivity across multiple industries and healthcare is no exception.
The focus of the health industry has evolved over the years. There was once a time when surgeries and integrated delivery networks (IDNs) were the talk of the town, followed by a time when payers and insurance companies were the target audience. Now, the world seems to have moved on to a new age where the key stakeholders are consumers themselves.
As technology continues to improve lives, people are now in control of their health, making personal healthcare options easily accessible through online platforms, with the latest gadgets and apps at their fingertips. Future innovation is now dictated by the kind of choices which consumers make in the adoption of Smart Health.
Discover the upcoming trends in Smart Health, where consumer-centric products such as wearables and other health monitoring equipment pave the way for increased collaborative efforts amongst both corporates and startups in changing the quality of life.
Date: 2 November 2020
Time: 4:00pm – 5:00pm (Singapore Time / UTC+8)
Programme:
4:00pm – 4:05pm: Opening Remarks (by SGInnovate and French Chamber Singapore)
4:05pm – 5:00pm: Panel Discussion and Q&A
Nadine Brun, General Manager of ASEAN, BioMérieux
Maryline Marquet, VP Operations, APACMed
Dr Charit Bhograj, Founder and CEO, Tricog Health
Moderator: Jasmine Qiu, Assistant Director – Venture Investing, SGInnovate
Speakers' Profile:
Nadine Brun, General Manager of ASEAN, BioMérieux
Nadine BRUN has 20 years of experience in the diagnostic and life science market. She has been with bioMérieux for 14 years, holding different functions in Global Marketing and Global Customer Service at bioMérieux Corporate Headquarters in Lyon, France. Nadine is currently the General Manager for ASEAN Region. She is based in Singapore since August 2018, and before that, she spent four years as Senior Director for Global Marketing in Microbiology, managing the teams in France and USA (Missouri and North Carolina). Nadine holds a Master Degree in Communication and Marketing with Jury Honors from ESCP-EAP European School of Management, with a dual competence in Biotechnologies from the Sciences Faculty of Lyon.
Maryline Marquet, VP Operations, APACMed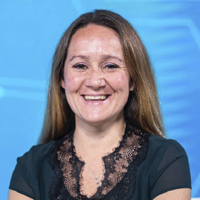 Maryline Marquet joined APACMed as VP operations early this year after spending four years with digital health startups and six years at Janssen Pharmaceuticals. The transition into a non for profit trade association allows Maryline to focus on topics such as digital health which she believes will have a major impact on healthcare companies, on payers and the insurance industry, and on both governments and the healthcare ecosystem's other stakeholders.
For the past ten years, Maryline designed healthcare solutions with customers in mind in Diabetes, Oncology, Neuroscience and Infectious Diseases to increase adherence and improve patients' outcomes. She is a digital health leader with an in-depth knowledge of numerous conditions, and the commercialisation of digital services around them.
Her early career was in investment banking and start-up in the US, consulting in Europe and Japan. Maryline holds a Master of Science in Management from EDHEC Business School and an MBA from INSEAD.
A global citizen with a French passport and Permanent Residency in Singapore, Maryline is highly passionate about working in healthcare, her motivation for her work being to be able to impact and transform people's lives tangibly and measurably positively.
Besides work, Maryline is the President of Insead Alumni Healthcare Club, and she likes to spend time with her family; she has three children, each born in a different continent.
Dr Charit Bhograj, Founder and CEO, Tricog Health

Dr Charit is the Founder and CEO of Tricog Health. Based in Singapore, Tricog is one of the worlds leading Health AI companies focused on Remote Cardiac diagnosis that has served over 4.2M patients across Asia and Africa. Dr Charit is a practising Interventional Cardiologist. After graduating in 2000, he helped establish and expanded interventional cardiology services at tertiary care centres. He has been the principal and participated in multiple global studies, research projects and papers in Cardiology. He is driven by the need to solve for the inefficiencies of healthcare to enable access to 5.8 billion people worldwide using technology. Dr Charit spends time between Singapore and Bangalore where his family resides.  
Moderator's Profile:
Jasmine Qiu, Assistant Director – Venture Investing, SGInnovate
Jasmine Qiu is a medical doctor by training with three years' medical residency. Before joining SGInnovate, Dr Qiu had gained over seven years of commercial experience assuming a wide range of responsibilities including pharmaceutical marketing, supply chain management, operations and business development. As a part of SGInnovate Venture Building team, she is the Project Lead for NRF Central Gap Fund project "Product Development and Verification of a Revolutionary Solution for the Treatment of Glue Ear", leading the activities of product development management, investor and medical device corporates and distributors engagements, market research, commercialisation roadmap formulation and implementation, supplier selection and evaluation, IP licensing negotiation and human resources. She also has provided venture building supports for various SGInnovate portfolio companies, adding values in the areas of market evaluation, product value proposition, business model exploration, fund-ability analysis, deal structure, business plan development, Go-to-Market strategy, product strategy, business development, sales pitch development and POC to scale. Dr Qiu holds a master's degree in business administration from Nanyang Technological University. She cleared all three Chartered Financial Analyst exams in three consecutive years.
Topics: MedTech / HealthTech / BioTech
You may also like the following: