Location
Perl @ BASH, Level 3,
79 Ayer Rajah Crescent
Singapore 139955
Price
Module 2 (You must have taken Module 1 First) - $1605
Deep Learning Developer Series: Module 2
Presented by SGInnovate and Red Dragon AI
SGInnovate partners with Red Dragon AI to introduce to you - Deep Learning Developer Series. This workshop is the second installation of the Deep Learning Series Workshop. In this module, we go beyond the basic skills learned in module 1 such as Convolutional Neural Networks and expand your ability to build modern image networks using a variety of architectures and for applications beyond simple classification.
To understand the current state-of-the-art, we will review the history of ImageNet winning models and focus in on the Inception and Residual models. We will also look at some of the cutting-edge models such as NASNet and AmoebaNet and show how they are different and how the field has gone beyond hand-engineered models.
One key skill that you will acquire is to learn how to use these modern architectures as feature extractors and then applying them to create applications like image search and similarity comparisons.
Start here













In this module you will also discover how to do such tasks as object detection and learn how models (like YOLO) are able to go beyond just classifying images to detecting where multiple objects are in an image.
You will also learn about image segmentation and classifying at the pixel level. This will involve using architectures like U-Nets and DenseNets and learning how they are used in a variety of image segmentation tasks from perception for self-driving cars to medical image analysis.
Building on the tools taught in the first module we will be going beyond just using TensorFlow and Keras, to introduce PyTorch and TorchVision, which are often being used for research in computer vision and cutting-edge architectures.
As with all the modules you will have the opportunity to build multiple models yourself. Most importantly, as part of your main project, you will be challenged to use your newly learned skills in an application that relates to your field of work or interest are.
Beyond giving you an understanding of what can be done in cutting-edge computer vision and how it is done, the goal of the workshop is to arm you deep learning computer vision skills so that you can apply it in your own area of work or project.
Prerequisites:
You must attend module 1 before taking this course.
Module 1: Deep Learning Jump-start Workshop
You may choose to purchase both module 1 & 2 as a package deal here.
Workshop Overview:
In the course participants will learn:
Learn about advanced classification and objection detection
Introduction into PyTorch and TorchVision
Acquire skills to create applications like image search and similarity comparisons
Learn about image segmentation and classifying at the pixel level with architectures like U-Nets and DenseNets and how they are used in a variety of image segmentation tasks
The workshop will be held over 2 intensive days coupled with 6 hours' worth of online content. This allows you to quickly learn the skills needed to apply Deep Learning and have access to ask your questions one on one. This is especially useful for understanding how to apply these skills to your unique applications.
Attendees MUST bring their own laptops
Agenda:
Day 1
Section 1: Convolutional Neural Network Recap
Topics Covered
Convolution Math in layers
Pooling and Strides
Alexnets
Building CNN networks
Calculating the parameters and shapes of various networks
Tuning CNN
VGG Network
Section 2: Intermediate CNNs
Topics Covered
Modern Convolutional Nets
Transfer Learning with CNNs and Finetuning
Inception architectures
Residual Networks
Imagenet history and applications
Building a classifier using transfer learning
Kaggle competition for images part 1
Start personal project 1
Day 2
Section 3:
Topics Covered
Auto Encoders
Repurposing CNN models
Object Detection
YOLO
Build an Image search system
Continue personal project 1
Section 4: CNNs Segmentation
Abstract:
Image Search
Segmentation Networks
U-Net and Skip connections architectures
Batch Normalization
Section 5: Video Walk throughs
Topics Covered:
Building CNNs from scratch
Building Auto Encoders
Understanding Object detection and location models
Style Transfer
Fast Style Transfer

Instructors' Biodata:
D.r Martin Andrews
Martin has over 20 years' experience in Machine Learning and has used it to solve problems in financial modelling and has created AI automation for companies. His current area of focus and specialty is in natural language processing and understanding. In 2017, Google appointed Martin as one of the first 12 Google Developer Experts for Machine Learning.
Sam Witteveen
Sam has used Machine Learning and Deep Learning in building multiple tech start-ups, including a children's educational app provider which has over 4 million users worldwide. His current focus is AI for conversational agents to allow humans to interact easier and faster with computers. In 2017, Google appointed Sam as one of the first 12 Google Developer Experts for Machine Learning in the world.
Funding Support
This workshop is eligible for CITREP+ funding.
CITREP+ is a programme under the TechSkills Accelerator (TeSA) – an initiative of SkillsFuture, driven by InfocommMedia Development Authority (IMDA).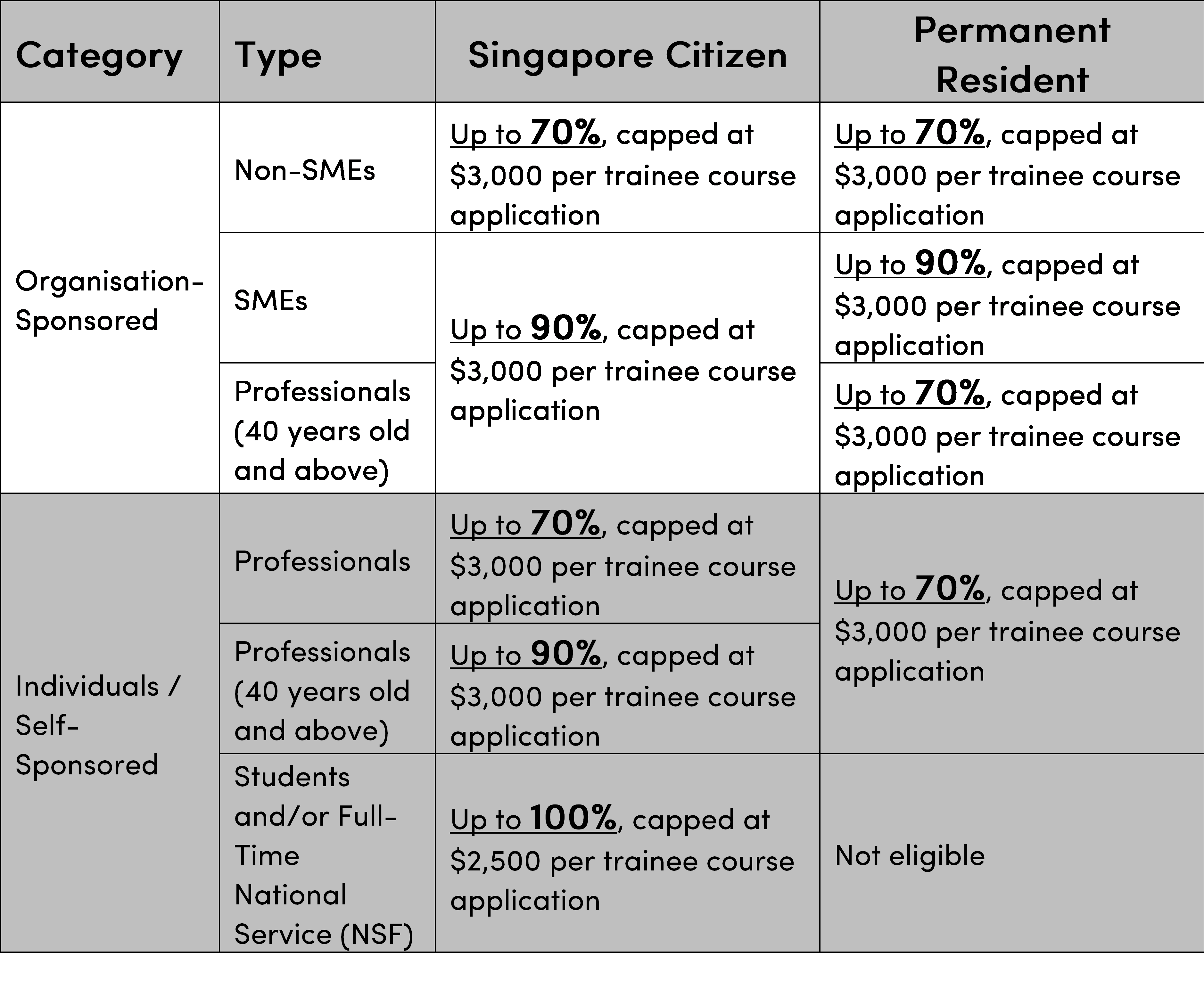 Funding Amount:
CITREP+ covers up to 90% of your nett payable course fee depending on eligibility for professionals
Please note: funding is capped at $3,000 per course application
CITREP+ covers up to 100% funding of your nett payable course fee for eligible students/full-time National Service (NSF)
Please note: funding is capped at $2,500 per course application
Funding Eligibility:
Singaporean/PR
Meets course admission criteria
Sponsoring Organisation must be registered or incorporated in Singapore (only for individuals sponsored by organizations)
Please note:
Employees of local government agencies and Institutes of Higher Learning (IHLs) will qualify for CITREP+ under the self-sponsored category
Sponsoring SMEs organization who wish to apply for up to 90% funding support for course must meet SME status as defined here.
Claim Conditions:
Meet the minimum 75% attendance
Complete and pass all assessments and/or projects
Guide for CITREP+ funding eligibility and self-application process:
For more information on CITREP+ eligibility criteria and application procedure, please click here.
In partnership with: Driven by:


For enquiries, please send an email to [email protected].
Topics: Artificial Intelligence / Deep Learning / Machine Learning / Robotics