Building the Future of Energy with Start-ups
Presented by EnRupt and SGInnovate
Singapore has a well-structured and active energy innovation ecosystem with local research programs, test-beds and energy start-ups emerging. Corporations are eyeing Singapore to host their innovation centres and start-up accelerator programs. What does it take to build scalable energy start-ups from Singapore?
Date: 28 March 2018
Time: 6:30pm – 8:30pm
Venue: 32 Carpenter Street, Singapore 059911
Programme:
6:30pm – 7:00pm: Registration
7:00pm – 7:05pm: Introduction & Welcome
7:05pm – 7:20pm: Presentations by start-ups – EverComm, Sunny Irrigation and BBP
7:20pm – 8:00pm: Panel discussion
8:00pm – 8:30pm: Q&A & End
Speakers:
Samuel Tan, Chief Digital Officer, SP Group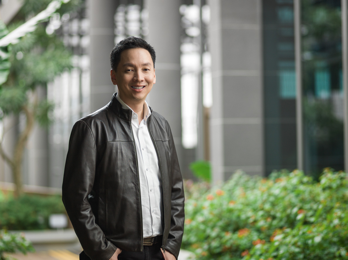 Samuel Tan is the Chief Digital Officer of SP Group, where he is responsible for driving innovative digital business models and digitising business processes. He leads the Digital and IT team, which consists of many revered tech leaders in Singapore – coined by the media as the "Avengers of Engineering". The team strongly believes in developing digital solutions to help customers achieve their sustainability goals. Samuel is also passionate about grooming digital and IT talent and developing a strong digital eco-system in Singapore.
Prior to his current role, Samuel spent 18 years in GE (General Electric) and GE Capital businesses where he last served as the Chief Information Officer (CIO) of GE Oil & Gas Asia Pacific and concurrently CIO for GE Corporate ASEAN, Global Growth & Operations. He joined the GE's IT Management Programme after graduating with Honours in Engineering from the Nanyang Technological University, and contributed to diverse GE business operations, including Consumer and Commercial Lending, Insurance, Advanced Materials and Oil and Gas. He had assumed various leadership roles driving technology, productivity, quality and strategic sourcing. To fulfill these appointments, Samuel and his family lived in the United States, Japan and the United Arab Emirates.
Katarina Uherova Hasbani, Founder, EnRupt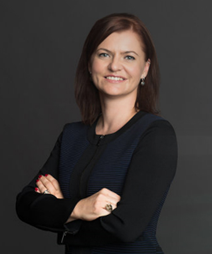 Katarina has 15 years of professional experience in energy from government & consulting in Europe, Middle East & South-East Asia. She founded EnRupt, the energy company of the future, and is supporting the transformation of the energy sector to be closer to the customer, using cleaner, renewable sources, and leveraging digital technologies. She is supporting this transformation by building partnerships between young, innovative startups and corporations.
Katarina excels in execution, where she can manage multiple work streams and teams in changing conditions. She is also on the Board of the Alliance for Rural Electrification (Industry association, HQ in Belgium) and Female Founders (Non-profit, HQ in Singapore). She is always looking out for opportunities to support energy sector transformation and champion gender equality.
Rick Sheridan, Co-Founder, Sunny Irrigation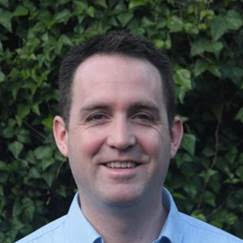 Where tech meets social entrepreneurship is Rick's comfort zone
Rick brings technical and management acumen built over years developing new embedded hardware products and bringing them to market. His primary interests are renewable energy, small volume prototyping and manufacturing, consumer electronics, sustainability. Rick has extensive emerging markets work experience. His specialties are: Business - Product management, Operations, Emerging markets, China sourcing, user testing, P+L projection, pricing, negotiation AND Tech: team-sourced product ideation, product development, lab prototyping, Six Sigma Green Belt.
Rick graduated from MIT and InseaD.
Nilesh Jadhav, Program Director, Nanyang Technological University (NTU)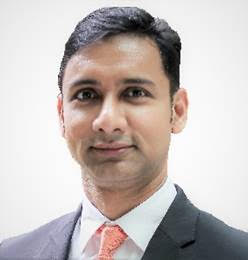 Mr Nilesh Y. Jadhav is currently a Senior Scientist and Program Director at the Nanyang Technological University (NTU), Singapore. He leads the EcoCampus initiative at NTU, which is a combination of R&D, test-bedding and industry collaboration to achieve a high impact sustainability showcase for Singapore. Before taking over this initiative formally in April 2014, he led the research group on Sustainable Building Technologies at NTU. He has been involved in writing the Technology Primers on Smart Grids and Solar Technologies for the Singapore National Climate Change Secretariat and also was the project lead for developing Singapore's first Technology Roadmap in the area of Energy Efficient Building Technologies with the Building Construction Authority (BCA) of Singapore. He serves on the board of the Singapore Green Building Council and also as council member of the Sustainable Energy Association of Singapore (SEAS).
T. Singaravelan (Velan), Director- Energy Partnerships, Evercomm Uni-Tech Singapore Pte Ltd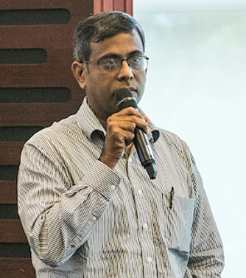 Velan is a professional IT veteran who successfully transitioned himself from a corporate fintech environment to being one of the key personnel responsible for driving the rapid growth of a clean tech start-up in Singapore. With his own unique experience, Velan strongly believes that it is never too late for anyone to make significant contributions within a start-up environment. He is very passionate in helping others get through this difficult transition.
Prior to joining EverComm, he was a strategy consultant and project manager with 20 years of experience in the digital banking industry across Asia Pacific.
Hemant Chanrai, Director, Eight Four Capital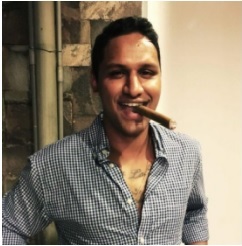 Upon completing his education in the UK, Hemant returned to Indonesia, were he grew up, and began Azzura Solar, an off grid solar power company aimed at providing home solar power systems for low income and rural communities. Over the course of 3 years, Azzura Solar partners with over a dozen CSR programs to help rural communities and has provided over 300,000 lumens and 5,000 extra study hours for children living without power and increased safety for families.
Now he runs an Impact Fund, Eight Four Capital, investing in for profit social enterprises throughout South East Asia.
Poyan Rajamand, CEO, Barghest Building Performance Pte Ltd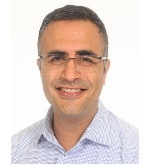 Mr. Rajamand is a co-founder and CEO of Barghest Building Performance (BBP), an award-winning energy efficiency technology company delivering software based optimization solutions to clients in commercial and industrial real estate sectors. ;
By combining advances analytics, energy management expertise and attractive financing options BBP has grown to a regional company with partners and offices in Singapore, China, Malaysia, Thailand and Indonesia.
Prior to starting BBP, Mr. Rajamand worked as a Management and Strategy Consultant at McKinsey & Co., advising clients on an array of challenges including energy and Green Financing related matters. Mr. Rajamand has also real estate investment background and was a founding member and Director in Singapore River One - a Public/Private partnership that brings a wide range of stakeholders together with the goal of creating precinct level improvements.
Singapore is currently in the forefront of Green Building Movement thanks to progressive government policies and foresight by the private sector. The development of the sector has led to creation of companies developing exciting new technologies in this space. With Barghest Building Performance being one of these companies, Mr. Rajamand has deep network and intimate knowledge of established and nascent technologies in the Green Building Space.
Mr. Rajamand holds a Masters in Engineering from EEIGM (France), an MBA from Stanford Graduate School of Management (USA) and is a Singapore Certified Energy Manager (SCEM).
Topics: Others